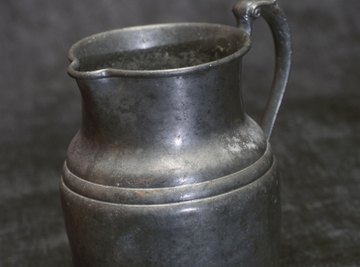 •••
Hemera Technologies/AbleStock.com/Getty Images
Alloys that combine tin and lead have a number of different names and applications. Solder is an alloy of tin and lead used to create electrical joints. Terne plate is an alloy of tin and lead used to coat steel. Some antique pewter contains both tin and lead, sometimes in combination with other metals. Other alloys involving tin and lead exist, but most of them use some additional elements.
Percentage Composition
The alloys of tin and lead have characteristic weight percentages. Ideally, solder is 63 percent tin and 37 percent lead. However, it is usually sold as 60 percent tin and 40 percent lead. Terne plate tends to be 75 percent lead and 25 percent tin. However, a 50-percent lead and 50-percent tin alloy can also be used. Finally, antique pewter can contain tin and lead in a variety of weight percentages. The percentage composition of pewter varies depending on the intended application. Other metals, such as copper and antimony, may also be present in both antique and modern pewter.
References
About the Author
Serm Murmson is a writer, thinker, musician and many other things. He has a bachelor's degree in anthropology from the University of Chicago. His concerns include such things as categories, language, descriptions, representation, criticism and labor. He has been writing professionally since 2008.
Photo Credits
Hemera Technologies/AbleStock.com/Getty Images