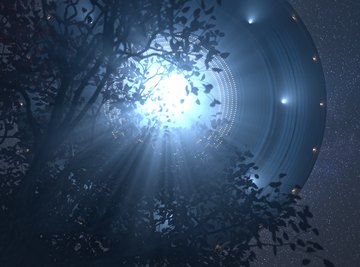 •••
ktsimage/iStock/GettyImages
Last month, the U.S. Navy began drafting guidelines for personnel to report unidentified flying object (UFO) sightings, as unidentified aircraft have begun entering military airspace as often as several times per month, according to the Washington Post.
This month, the Navy reported that these sightings will stay secret, since it typically includes privileged and classified information in these types of files.
Why It's Secret
Joe Gradisher, spokesman for the office of the Deputy Chief of Naval Operations for Information Warfare, said in a statement that the military always keeps its reporting of aviation hazards confidential "in order to preserve the free and honest prioritization and discussion of safety among aircrew."
"Furthermore, any report generated as a result of these investigations will, by necessity, include classified information on military operations," he said in the statement. "Therefore, no release of information to the general public is expected."
Even so, it's safe to expect that Navy personnel will report regular sightings of UFOs – or "unexplained aerial phenomena," as the military calls them – because UFO intrusions in military airspace have happened consistently since 2014, according to reporting by POLITICO.
"There have been a number of reports of unauthorized and/or unidentified aircraft entering various military-controlled ranges and designated air space in recent years," the Navy told POLITICO in a written statement "For safety and security concerns, the Navy and the [U.S. Air Force] takes these reports very seriously and investigates each and every report."
What These Sightings Could Mean
The Navy by no means claims these UFO sightings are linked to alien activity. In fact, its new efforts to record reports of UFO sightings are in part to destigmatize them.
"The Navy isn't endorsing the idea that its sailors have encountered alien spacecraft," POLITICO reporter Bryan Bender wrote. "But it is acknowledging there have been enough strange aerial sightings by credible and highly trained military personnel that they need to be recorded in the official record and studied – rather than dismissed as some kooky phenomena from the realm of science fiction.
These new reporting procedures come in part as a response to 2017 revelations that the Pentagon had a secret office that dropped $22 million in five years on the study of "strange and threatening aeronautical events," according to LiveScience.
Such events included a bizarre aircraft that, according to military pilots, could allegedly accelerate quickly and drive thousands of feet in an instant – even though the aircraft appeared to lack any means of propulsion.
Now, the Navy will be formally investigating these types of sightings, though the public may not hear much about it.
References
About the Author
Brenna Swanston is a freelance writer, editor and journalist. She covers topics including environment, education and agriculture. She previously reported for the Sun newspaper in Santa Maria, Calif., and holds a bachelor's in journalism from California Polytechnic State University. Swanston is an avid traveler and loves jazz, yoga and craft beer.