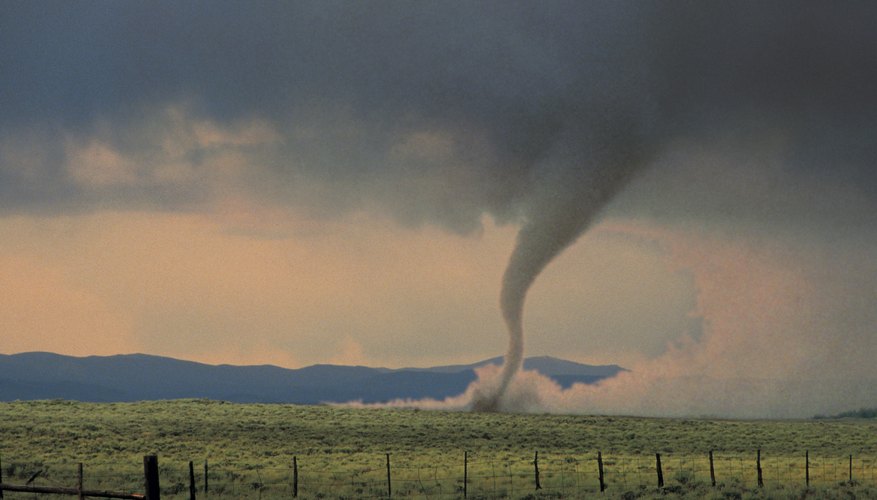 Tornadoes rank among the most ferocious and fascinating of natural weather phenomena. These remarkable weather patterns are famed both for their savage unpredictability and the devastation they cause. Although their origins and the natural laws that give rise to them are complex, their effects on people are both simple and tragic: the destruction of life and property.
Fujita Scale
The impact of a tornado depends on its strength. Weak tornadoes may cause only minor damage to property, while a stronger tornado may devastate large parts of an entire town. Meteorologists measure the strength of a tornado using the enhanced Fujita or EF-scale, where EF5 is fastest and most destructive and EF0 is weakest. Although some 1,200 tornadoes form in the United States every year, the bulk of these are EF0s, EF1s and EF2s, all of which are weaker and therefore cause less damage.
Location
The effect of a tornado on humans depends not only on its strength but on where it touches down. Tornadoes that sweep through remote rural areas, for example, will have far less impact than those that hit crowded urban areas. Tornadoes occur around the world but are most common in the so-called Tornado Alley of the Midwestern United States. Three-quarters of tornadoes around the world occur in the United States. Australia, New Zealand, Bangladesh and some parts of Africa and South America also experience significant tornado activity. Most tornadoes in the United States happen from May through June and usually, though not always, from 4 p.m. to 9 p.m.
Loss of Life
After heat, hurricanes and floods, tornadoes are the fourth most lethal weather pattern in the United States. U.S. death tolls from tornadoes vary considerably from one year to the next. Since 2000, death tolls have ranged from a low of 21 in 2009 to a high of 553 in 2011, with an average of 94 deaths a year for that time period. The high death toll in 2011 was due partly to the 2011 tornado super outbreak, in which some 748 tornadoes occurred in the month of April, followed by a devastating tornado strike on Joplin, Missouri, in May. The April 2011 outbreak was so unprecedented that it surpassed even the infamous 1974 tornado outbreak, when a single weather system spawned some 147 tornadoes in just 24 hours. Tornadoes that happen at night tend to be the deadliest because people who are asleep do not get the tornado warning in time.
Economic Impact
Tornadoes that sweep through urban areas destroy a lot of property and thus have significant economic impact. The 1999 twister that hit Moore, Oklahoma, for example, caused some $1.1 billion in damage, while the 2011 Joplin, Missouri, tornado caused some $3 billion in damage. Annual damage costs from tornadoes vary considerably; some years like 2011 see considerable damage, while others do not. The data going back to 1950 shows that damage for any given year can range from as little as $100 million to $200 million or as great as $7 billion to $8 billion. Again, this variability stems from the random nature of tornado strikes; the odds are low that any particular urban area will be hit by a tornado in a given year, but when tornadoes do strike urban areas, they cause a huge amount of damage.