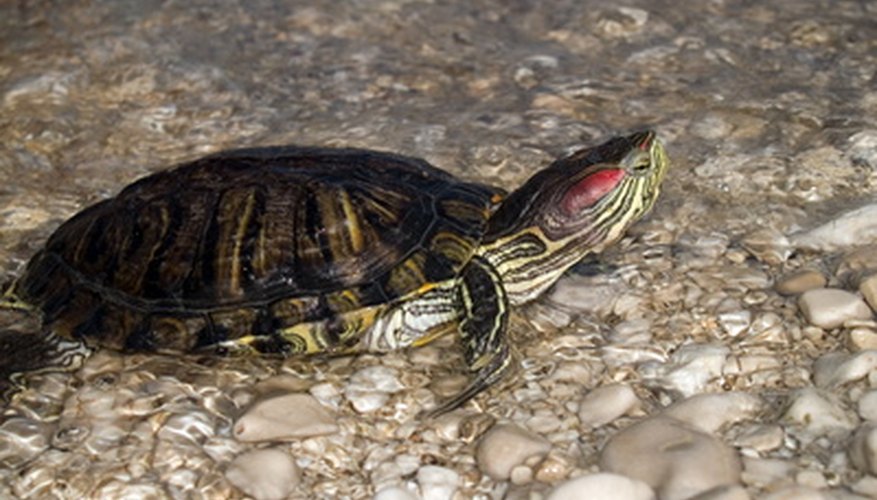 Like all reptiles, turtles shed their skin as they grow, but their protective shell makes their growth a more subtle process. Their characteristic shell that helps protect them from predation in the wild is not an exoskeleton that can be removed. The shell is a modified rib cage that is fused to the vertebrae and grows with the turtle its entire life.
Growth
Shells are a distinct portion of a turtle's skeleton and slowly grow with the turtle. The outer portion of the shell is covered by large, hard scales called scutes. The number of scutes on a turtle's shell does not change as the turtle grows, but the size of the scutes do. Some turtles do not completely shed their scutes but instead simply grow new ones underneath, which makes it easy to estimate the age of some turtles by examining the layers of scutes on the shell--similar to counting the rings on trees.
Lifespan
Turtles are some of the oldest living reptiles on the planet. Adult box turtles are known to live over 100 years in the wild, according to the National Zoo. A turtle continues to grow as long as it lives--though the growth is often hard to observe once an individual reaches maturity.
Reproduction
All turtles reproduce by laying eggs in spring. Often, females will dig nests on the shores of lakes, ponds or slow-moving rivers. Baby turtles hatch in mid-summer to early fall and grow rapidly in their first season of life before hibernating for the winter. In many species of turtles, the temperature of incubating eggs determines its sex; cooler temperatures produce males and warmer temperatures females.