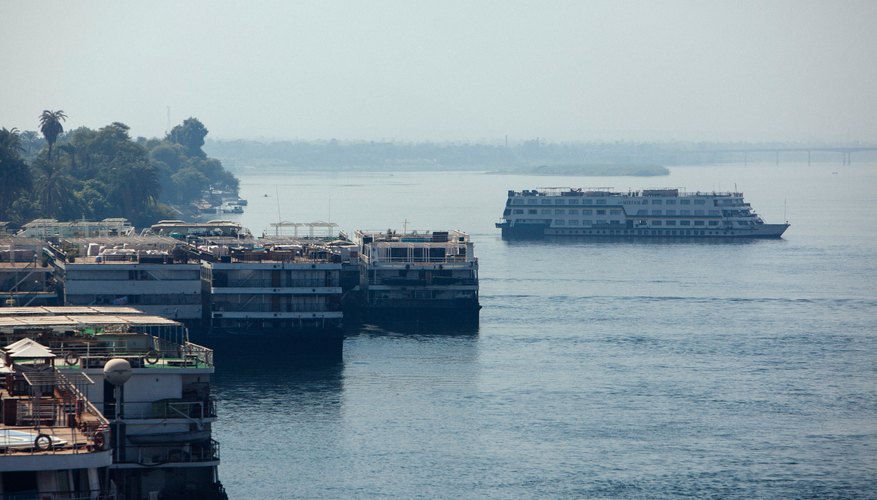 In Egypt, sandy deserts seem to stretch on endlessly with little life in sight. In the middle of the desert, though, rests the Nile River. The Nile, measuring 4,187 miles from beginning to end, is the longest river in the world. Ancient Egyptians relied on the Nile's bounty to develop into a prosperous and thriving civilization.
Food and Papyrus
Rainfall was very sparse in ancient Egypt, so Egyptians relied on the Nile to irrigate their crops. The Nile flooded for six months each year, then left behind a fertile layer of silt as the waters receded. Egyptians grew crops such as wheat, barley, beans and cotton in the silt. They dug canals from the river to their farms so crops would receive water. Egyptians ate fish from the river and hunted birds in its marshes. They gathered papyrus reeds from the banks of the river and turned them into a flattened material similar to paper. They also used papyrus for rope, sandals and baskets.
Trade and Politics
Without the Nile, travel would have been quite difficult in Egypt. Ancient Egyptians used the Nile as a trade route, as it was the fastest way to move goods from one place to another. The Nile helped keep invaders out of Egypt. The river was so vital to Egyptians that it fostered political unity. Kings organized the cultivation and storage of crops along the Nile, and this organization caused a disciplined workforce to develop. The workforce was later responsible for building pyramids, elite tombs and royal monuments.