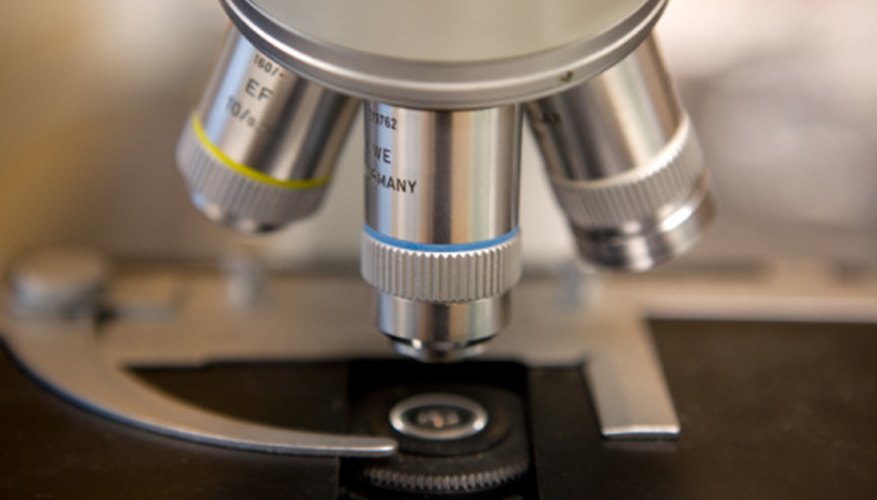 Jupiterimages/Photos.com/Getty Images
Cells go through two main phases. In the first phase, known as interphase, the cell grows, replicates its genetic material and produces proteins. In the second phase, known as mitosis, the cell divides in two identical daughter cells. Both of these phases contain subphases that correspond to specific cellular events. At any given time, a cell is either in interphase or mitosis.
Gap 0
In the first stage of interphase, known as gap 0 or G0, the cell is in a resting state. Cells in G0 are not replicating any of their genetic material and are not preparing to divide. Mature cells that are no longer able to divide may remain in G0 forever. Some scientists posit that cancer is caused when cells permanently leave G0 and begin dividing too rapidly.
Gap 1
In the second stage of interphase, known as gap 1 or G1, the cell grows greatly in size. It also starts to produce large quantities or RNA for protein synthesis. G1 contains important checkpoints that prevent an unhealthy cell from dividing and creating more unhealthy cells.
Sciencing Video Vault
Create the (almost) perfect bracket: Here's How
Synthesis Phase
In the third stage of interphase, known as synthesis phase or S phase, the cell totally replicates its DNA. Thus, the cell nucleus contains two complete genomes.
Gap 2
In the final stage of interphase, known as gap 2 or G2, the cell continues to grow in size and produce proteins. G2 contains another important checkpoint to ensure healthy cell division. If the DNA was not correctly replicated in S Phase, the cell will not enter mitosis.
Prophase
The first stage of mitosis, known as prophase, occurs when a miotic spindle starts to form. This structure, composed of fibers that stretch to centrioles on opposite ends of the nucleus, provides alignment for the chromosomes.
Prometaphase
The second stage of mitosis, known as prometaphase, involves the dissolution of the nuclear membrane. The miotic spindle becomes more apparent and the chromosomes begin attaching themselves to it.
Metaphase
The third stage of mitosis, known as metaphase, occurs when the miotic spindle aligns the chromosomes along the middle of the nucleus. This forms a structure called the miotic plate, which is where the cell will begin to divide.
Anaphase
In the fourth stage of mitosis, known as anaphase, the chomosomes begin to move along the spindle to opposite sides of the cell.
Telophase
In the fifth stage of mitosis, known as telophase, the chromosomes reach the opposite ends of the cell. Two new nuclear membranes begin to form, one around each group of chromosomes.
Cytokinesis
In the final stage of mitosis, known as cytokensis, the cell is pinched into two new daughter cells, each with a nucleus and identical set of chromosomes.