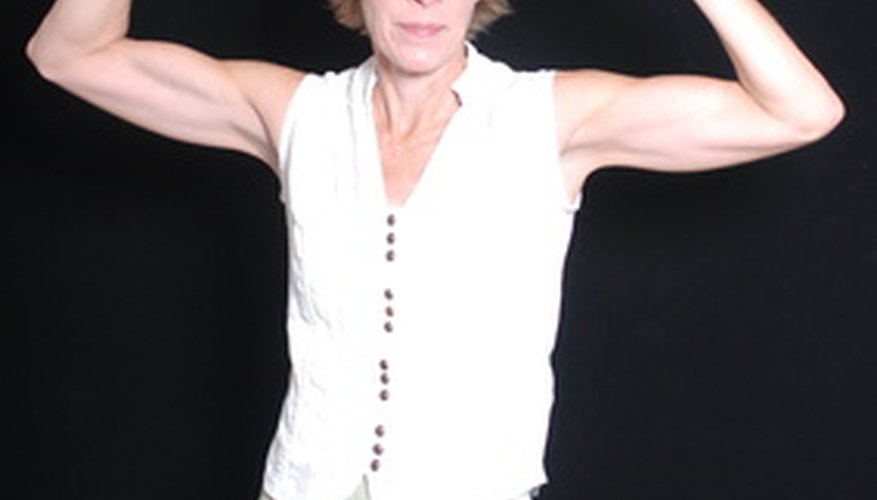 woman flexing muscles image by jimcox40 from
Fotolia.com
Living organisms require adenosine triphosphate, also called ATP and known as the energy molecule, to function. Cells produce ATP using cellular respiration processes, which can be divided into those that require oxygen and those that do not.
Types
According to Ohio State University, two processes living organisms use to produce ATP are aerobic respiration and anaerobic respiration. Anaerobic respiration has two types in humans, glycolysis and the phosphagen system.
Identification
Aerobic cellular respiration uses glycolysis to start the Krebs cycle, which generates a high yield of ATP for every glucose molecule used. Anaerobic respiration produces a lower yield of ATP in the absence of oxygen. When the body needs energy more quickly than it can absorb oxygen, such as during a sprint, cells use anaerobic respiration to produce ATP quickly.
Expert Insight
Two types of anaerobic cellular respiration take place during exercise in humans: the phosphagen system and glycolysis. The phosphagen system uses creatine phosphate, according to Becky Bass at Sonoma State University, and produces energy primarily for bursts of activity under 30 seconds. Anaerobic glycolysis, which uses only glucose, occurs for up to two minutes; then aerobic respiration takes over.