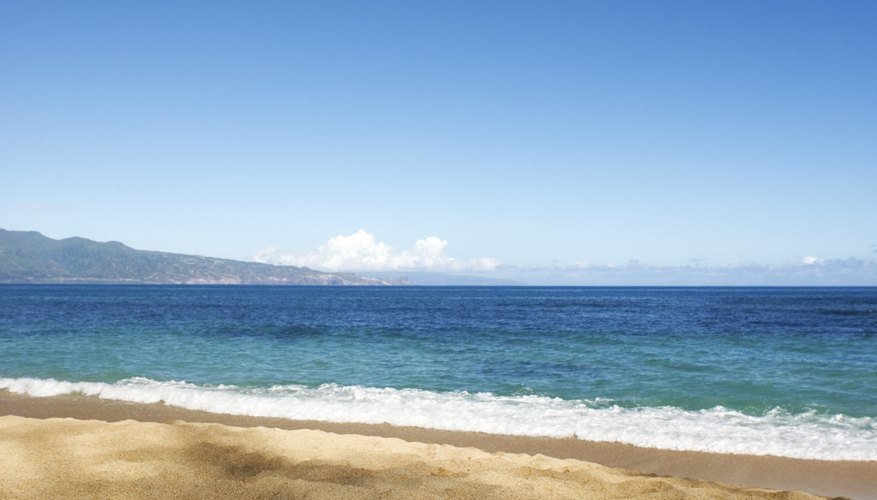 Carbon is an essential chemical element for the maintenance of life on Earth. All known life forms are based on organic carbon compounds. The human body is composed of over 18 percent carbon, more than any element besides oxygen. If aliens exist, they may also be carbon-based, as the element is the fourth most abundant in the universe.
Carbon Cycle
The carbon cycle is an exchange system where carbon passes between the Earth's atmosphere, its terrestrial geosphere, the oceans, or hydrosphere, and the organic biomass of living and formerly living organisms. When the carbon compounds are not passing between the Earth's biotic and abiotic sources, the material is stored in natural features known as carbon reservoirs. A closed reservoir allowing no carbon exchange or outflow is called a carbon sink. The carbon cycle forms a delicate biogeochemical harmonious balance between reservoirs.
Atmosphere
While not the largest carbon reservoir, the Earth's atmosphere is one of the most important. Carbon is present in the air mainly as the gases carbon dioxide and methane. Carbon dioxide is a necessary component of photosynthesis, the mechanism allowing plant life to flourish. The atmosphere contains only 0.04 percent carbon, or 750 gigatons. A gigaton is one billion tons. Carbon dioxide is the dominant gas in the atmospheric reservoirs of the planets Mars and Venus.
Oceans
The oceans are the Earth's largest carbon reservoirs. The deep ocean harbors 38,100 gigatons of carbon, while the water's surface contains 1,020 gigatons. The atmosphere and the ocean are locked in a symbiotic carbon exchange system. Excess atmospheric carbon is absorbed and stored in the ocean, where it supports photosynthetic algae and other organisms. Currently, it appears that the oceanic and atmospheric carbon reservoirs are out of balance, contributing to a warming trend.
Ocean Sediment
The Earth's primary long-term carbon storage sink is the deep sea sediment at the bottom of the oceans. It holds 150 gigatons of carbon. Marine life forms such as algae, foraminifera, diatoms and other shell making organisms are responsible for the solidification and storage of carbon dioxide. When the organisms die and sink to the bottom of the oceans, their calcium carbonate shells form sediment that compresses and hardens into limestone and other sedimentary carbonate rock.