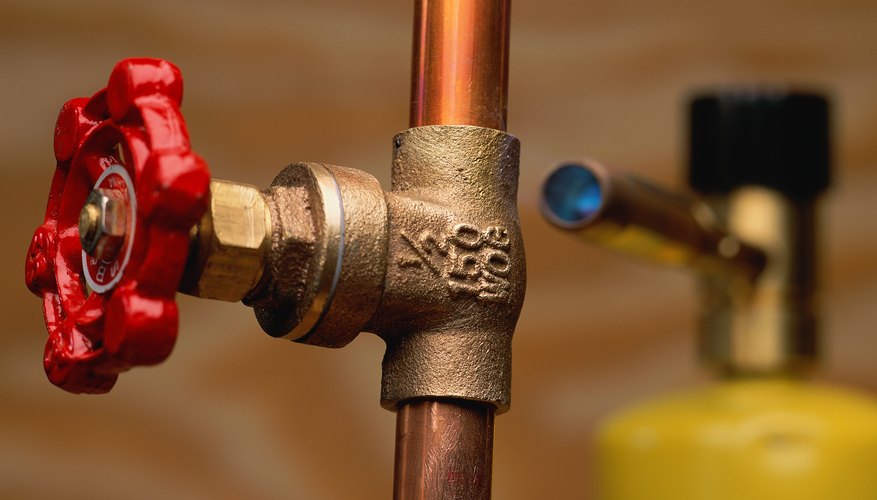 Stockbyte/Stockbyte/Getty Images
Thanks to the high strength, durability and corrosion resistance of copper, this material is a natural fit for plumbing. Even ancient Egyptians recognized the value of copper pipes for irrigation and waste removal. Type L and type K copper pipes share many characteristics. But these two products are different enough that installers select each for specific applications. ASTM International, formerly known as American Society for Testing and Materials, sets standards for various materials to help installers quickly identify and choose the right pipe for the job.
TL;DR (Too Long; Didn't Read)
Too Long;Didn't Read (TL;DR)
Copper is a useful material for pipes due to its high strength, durability and corrosion resistance. Type L, type K and type M copper pipes are selected for specific applications based on their diameter and wall thicknesses.
Forms of Type L and Type K Copper Pipes
Type L and type K copper pipes both come in various forms including hard and tempered, straight sections or soft, flexible coils. The straight sections of both types are quite hard, and installers use tools to cut and bend these pipes. The rolls of Type L and K copper are soft. Installers can often bend these sections by hand to fit around obstacles. While hard lengths of pipe allow for a neater installation, coils work better for renovation work, where other pipes or beams may prevent straight runs of pipe. Many cooling and specialty plumbing systems specify coils.
Sizes of Type L and Type K Copper Pipes
ASTM International sells both Type L and type K copper pipes in standard sizes. The outer diameter of a type L and a type K pipe of the same size designation is identical. Where these pipes differ is their wall thickness. Type K pipes have thicker walls than type L, so the inner diameter of type K pipes will also be smaller than the inner diameter of a type L pipe.
Identification of Type L and Type K Copper Pipes
Copper pipes manufactured to ASTM International standards feature color-coded labeling for easy identification. Type K copper pipes feature labels with green lettering, while type L pipes feature blue lettering. Incised, or carved, marks on the pipe identify the type of pipe even if the label is removed.
Uses of Each Type of Copper Pipe
The thicker walled type K pipes handle greater pressure than the thinner walled type L pipes. Each of these pipes safely transport water, waste, air, fuel, refrigerant or gas, according to the Copper Development Association Inc. High-pressure applications, such as medical gas, often require type K copper piping. When choosing between these two types of pipe, always refer to local building codes to learn which type the codes require.
Type M Pipe and Comparison Considerations
ASTM International also provides standards for type M copper pipe, which features thinner walls than both type L and type K pipes. This material features labels with red lettering, and comes in rigid lengths only. These three specialty varieties of copper piping safely vents air conditioning, medical gas, drainage and waste.