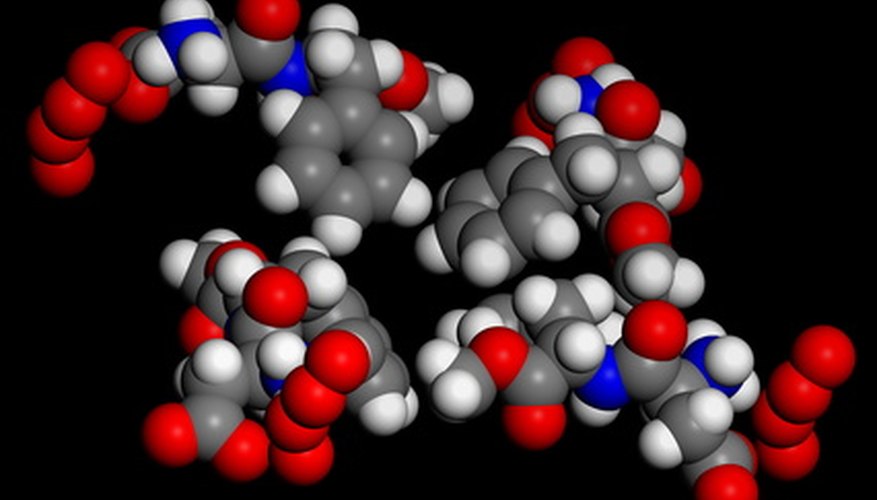 aspartame molecule image by Vladislav Gajic from
Fotolia.com
Within the field of biotechnology, cell lines are produced within a growth culture, or medium. These mediums allow researchers to understand the chemical processes that enable cells to manufacture their own structures. The types of cell lines used for cloning or combining cell materials include finite and continuous lines. The type of line used depends on the overall purpose of the project.
Finite Cell Lines
Like most living organisms, cells have a preprogrammed life span that determines the number of times a cell is capable of dividing. This is a natural phenomena known as cell senescence, which makes most cell lines finite. Finite cell lines develop within primary cell cultures where the initial attempt at growing cell lines is made, according to Biotechnology 4U, a biology reference site. Primary cell cultures can consist of dependent and/or independent cell types. Dependent cells require the actual culture medium in order to grow. The culture medium provides certain materials and nutrients needed to sustain the life of dependent cells. Independent cells can grow in a suspended environment, meaning they don't need the culture medium for survival or for growth processes to occur.
Continuous Cell Lines
According to Biotechnology 4U, continuous cell lines are derived from the surviving cells of a primary cell culture. In cases where the cells in a primary culture are cloned, or transformed, continuous cell lines can be used to develop a secondary cell culture. Continuous cell lines derived from dependent cells will require a fresh culture medium that supports the cells' life functions. Secondary cultures derived from independent cell lines maintain their ability to grow in suspension form, though a second culture vessel is required for transferring the surviving cells. Finite cell lines that outgrow their primary culture are typically subcultured, or split off from the primary medium and transferred into a secondary culture. In a sense, these are also continuous cell lines that have outgrown their original culture medium.
Considerations
Finite and continuous cell lines have different characteristics which affect the overall outcome of a cell culture project. The purpose of a particular project will help determine which type of cell line can bring about the best results, according to Invitrogen, a biotechnology resource site. Since multiple culture environments are the intended result within a cloning project, the self-sufficient characteristics found in continuous cell lines significantly reduces the amount of maintenance required as compared to finite cell lines. Projects geared towards understanding cell building activities may benefit from the use of finite cell lines, since the purpose for the project centers on the natural progression of chemical interactions within the cell.