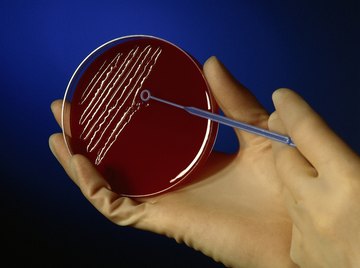 •••
Hemera Technologies/Photos.com/Getty Images
Every cell in your body has a membrane-bound organelle called the nucleus, which houses genetic material known as DNA. Most multicellular organisms isolate DNA in a nucleus, but some single-celled organisms have free-floating genetic material.
Prokaryotes versus Eukaryotes
The presence or absence of membrane-bound organelles is what distinguishes eukaryotes -- including human beings -- from prokaryotes such as bacteria. Prokaryotes include members of the kingdoms Monera and Archaea. Prokaryotes do not have a nucleus. The material within prokaryotic cells is protected by a cell membrane, wall or both.
DNA
Prokaryotic DNA is found in the cytoplasm of the cell in an area called the nucleoid region. Cytoplasm is the fluid material that suspends the components of the cell.
References
About the Author
Carolyn Robbins began writing in 2006. Her work appears on various websites and covers various topics including neuroscience, physiology, nutrition and fitness. Robbins graduated with a bachelor of science degree in biology and theology from Saint Vincent College.
Photo Credits
Hemera Technologies/Photos.com/Getty Images