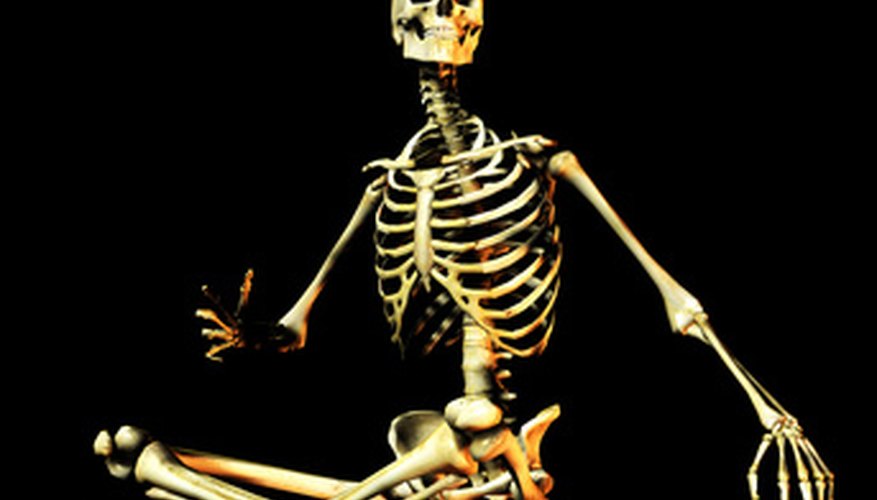 Collagen is an important protein that forms one of the main components of extracellular matrices and connective tissues like bone and cartilage. According to "Molecular Cell Biology", there are more than 16 different types of collagen, although some 80 to 90 percent of the collagen in your body is one of three different types. Collagen proteins are produced by cells like fibroblasts in the form of procollagen; once procollagen is secreted or released by the cell, it's cleaved to form active collagen, which packs together to form fibrils or tiny fibers.
Collagen Type I Fibers
Like the other collagens, collagen type I forms a triple helix composed of three chains or strands, each of them with 1050 amino acids and approximately 300 nanometers long. Hydrogen bonds between amino acids in the different chains help hold them together and give the fiber a great deal of strength. Often multiple collagen type I triple helices will join together side by side to form a tough fibril like a rope that has high tensile strength. Type I collagen is extremely strong -- according to "Molecular Cell Biology" its strength per unit mass is greater than steel -- and forms the primary component of tendons, connective tissue structures that link muscles and bones. Collagen type I also helps reinforce your bones.
Collagen Type II Fibers
Collagen type II is the major protein in cartilage, the tough connective tissue found in your nose, ears and many joints in your body. Collagen type II fibrils are smaller than collagen type I fibrils and assume random orientations in a gelatinous matrix of protein-carbohydrate complexes, where they cross-link with collagen type IX. Owing to its structure, collagen IX cannot form fibrils like the other collagens but helps hold the collagen type II fibrils together. The collagen fibrils help give cartilage its strength and resiliency.
Collagen Type III Fibers
While collagen type III is not as strong as collagen type I, it also forms triple helices that are notable for their durability. Collagen III is common in arterial walls, in the skin and in the intestines. It's also produced by fibroblasts to seal up damaged skin in response to injury since it can be produced somewhat more rapidly than collagen type I. Once a wound has time to heal, collagen type III will gradually be replaced with collagen type I fibers to form scar tissue.