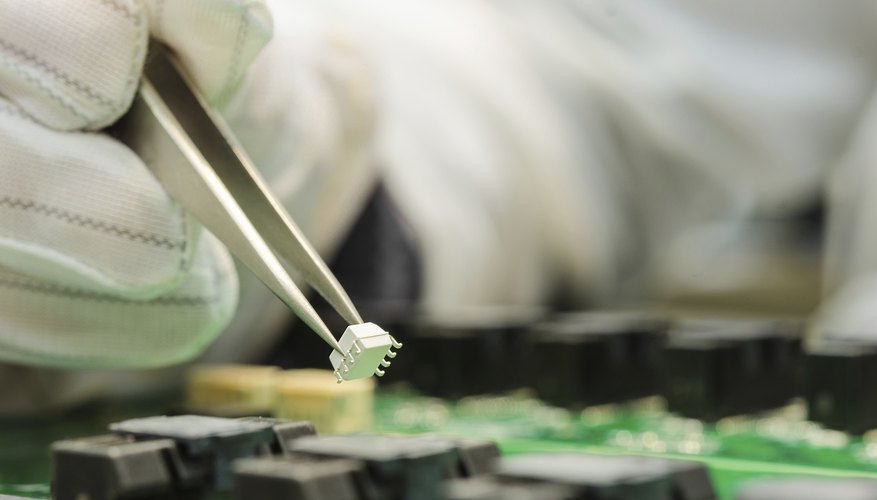 servickuz/iStock/Getty Images
Integrated circuits, often called semiconductors, chips or ICs, fall into numerous categories. Leading semiconductor trade organizations and market research firms use these categories to report on the health of the various chip market segments. Although many classifications exist, the three primary categories are analog, digital and mixed-signal integrated circuits.
Digital Integrated Circuits
Digital integrated circuits, primarily used to build computer systems, also appear in cellular phones, televisions, and a growing number of appliances including stoves and washing machines. Digital integrated circuits include microprocessors, microcontrollers and logic circuits. They perform mathematical calculations, direct the flow of data and make decisions based on Boolean logic principles. The Boolean system used centers on on two numbers: 0 and 1.
Analog Integrated Circuits
Analog integrated circuits most commonly make up a part of power supplies, instruments and communications. In these applications, analog integrated circuits amplify, filter and modify electrical signals. In telephones, they amplify and filter the incoming signal from the phone's antenna. The sound encoded into that signal has a low amplitude level; after the circuit filters the sound signal from the incoming signal, the circuit amplifies the sound signal and sends it to the speaker in your phone, allowing you to hear the voice on the other end.
Mixed-Signal Integrated Circuits
Mixed-signal circuits occur in cellular phones, instrumentation, motor and industrial control applications. These circuits convert digital signals to analog signals, which in turn set the speed of motors, the brightness of lights and the temperature of heaters, for example. They also convert digital signals to sound waves, allowing for the design of digital musical instruments such as electronic organs and computer keyboards capable of playing music. Mixed-signal integrated circuits also convert analog signals to digital signals. They will convert analog voltage levels to digital number representations of the voltage level of the signals. Digital integrated circuits then perform mathematical calculations on these numbers.
Memory-Integrated Circuits
While they are primarily used in computer systems, memory-integrated circuits are also used in cellular phones, stereos and televisions. A computer system may include 20 to 40 memory chips, while other types of electronic systems may contain just a few. Memory circuits store data as a series of 0's and 1's. Digital integrated circuits retrieve these numbers from memory and perform calculations with them, then save the calculation back in memory. The more data it accesses -- pictures, sound and text -- the more memory an electronic system will require.