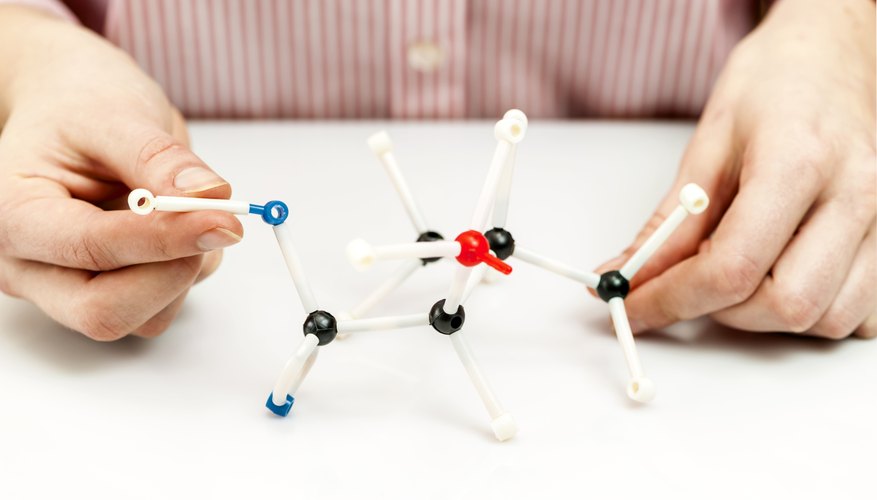 Monomers are single atoms or small molecules that bind together to form polymers. In turn, polymers are macromolecules that are composed of repeating chains of monomers. The four main types of monomers are amino acids, nucleotides, monosaccharides and fatty acids. These natural monomers form the basic macromolecules in the body, which are proteins, nucleic acids, carbohydrates and lipids (fats). Mono means one and a mer is a single unit. Essentially, monomers are building blocks for molecules, including proteins, starches and many other polymers.
TL;DR (Too Long; Didn't Read)
Too Long;Didn't Read (TL;DR)
Monomers are single atoms or small molecules that bind together to form polymers. Polymers are composed of repeating chains of monomers. The four main types of monomers are amino acids, nucleic acids or nucleotides, carbohydrates and lipid. These form the building blocks of the body's basic macromolecules.
Amino Acid Monomers
Amino acids are natural monomers that are the building blocks of proteins. Once amino acids link together, they fold and twist until the final protein is formed. Amino acid monomers can be linked in a variety of ways to form different types of protein. There are 20 standard amino acids, and these monomers bind together to create proteins that do everything from performing biological functions in humans to providing structural support in spider webs.
Types of Nucleotide Monomers
Nucleotides are monomers that bind together to form nucleic acids, the building blocks of RNA and DNA. Nucleotides have three components: a nitrogenous base, a phosphate group and a five-carbon sugar. If the nucleotide has a ribose sugar then the nucleotide will form the structural units of RNA. If the nucleotide contains the sugar deoxyribose, then the monomer will form the structural units of DNA. Nucleotides form nucleic acids through dehydration synthesis, a covalent bond formed by removing a water molecule between two or more monomers.
Types of Carbohydrate Monomers
Monosaccharides are monomers and the simplest chemical form of sugar. They are the basic units of carbohydrates, which store energy in animal and plants and give structure to plant cell walls. Monosaccharides have three main components: oxygen, hydrogen and a varying number of carbon atoms. There are several types of monosaccharides, including glucose, ribose and fructose. Through dehydration synthesis, monosaccharides bind together to create larger carbohydrates. A disaccharide, like sucrose, occurs when two monosaccharides bind together. A polysaccharide, like cellulose, forms when three or more monosaccarides bind together.
Fatty Acid Monomers
Fatty acids are monomers that form many types of lipids. Lipids are one of the four main types of biological macromolecules and are used to store energy and add structure to cell membranes. Fatty acids are composed of long chains of carbon and hydrogen atoms. Fatty acids may be saturated, where there are no double bonds between carbon atoms, or unsaturated, where there is at least one double bond between carbon atoms.
Forming Polymers From Monomers
Aside from the four main monomers, there are hundreds of other monomers. The key attribute of monomers is that they combine to create polymers, which are also known as macromolecules. Monomers connect to one another via covalent bonds, which are bonds formed from two or more atoms sharing electrons. The process of monomers bonding to one another is known as polymerization. For example, the monomer isoprene forms covalent bonds with other isoprene monomers to create natural rubber.
Types of Synthetic Monomers
While the monomers described above are natural monomers, there are also synthetic monomers which form synthetic polymers. Petroleum is the base for synthetic polymers which are made in labs. Many synthetic polymers are used in daily life including polyester, Teflon and nylon. Protein-based natural polymers also exist in the form of silk and wool.