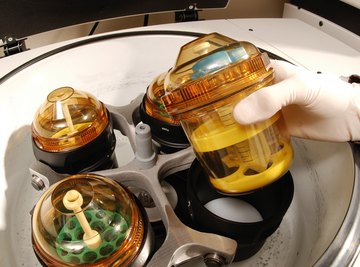 •••
Hemera Technologies/Photos.com/Getty Images
A centrifuge is an apparatus consisting of a compartment that spins upon a central axis. The spinning motion causes materials to separate based on their different gravities. A centrifuge rotor is the rotating unit of the centrifuge, which has fixed holes drilled at an angle. Test tubes are placed inside these holes and the rotor spins to aid in the separation of the materials. There are three types of centrifuge rotors: swing-bucket, fixed-angle and vertical rotors.
Swing-Bucket Rotors
A swing-bucket rotor usually supports samples ranging in volume from 36 mL to 2.2 mL. Swing-buckets can support two types of separations: rate-zonal and isopycnic. Swing-buckets are preferred for rate-zonal separations, because the distance between the outside of the meniscus and the outside of the bottom of the tube is long enough for separation to occur.
Fixed-Angle Rotors
Fixed-angle rotors are usually used for pelleting applications to either pellet particles from a suspension and remove the excess debris, or to collect the pellet. Rotor cavities range from 0.2 mL to 1 mL. The most important aspect in deciding to use a fixed-angle rotor is the K factor. The K factor indicates how efficient the rotor can pellet at maximum speed. The lower the K factor, the higher the pelleting efficiency.
Vertical Rotors
Vertical rotors are highly specialized. They are typically used to band DNA in cesium chloride. Vertical rotors have very low K factors, which is useful if the particle must only move a short distance until it pellets. Run time on vertical rotors is short.
References
About the Author
Si Kingston has been an online content contributor since 2004, with work appearing on websites such as MadeMan. She is a professional screenwriter and young-adult novelist and was awarded the Marion-Hood Boesworth Award for Young Fiction in 2008. Kingston holds a Bachelor of Arts in English from Mills College.
Photo Credits
Hemera Technologies/Photos.com/Getty Images