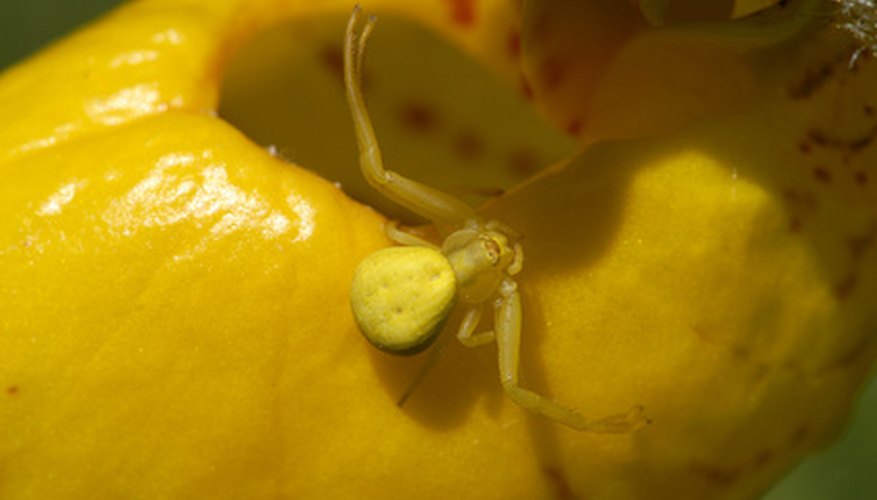 Stretching westward from Canada's capital city of Ottawa to Algonquin Park, the Ottawa Valley contains around 6 million acres of wilderness. Within this vast area are numerous species of wildlife, including many varieties of arachnids, or spiders. Though some can be dangerous, the venom of most species is harmless. With few exceptions, the fangs aren't large or strong enough to pierce human skin.
The Dock Spider
This spider found throughout Ontario is the largest of the local species. Dock spiders can grow to be up to 10 cm wide. Also known as the fishing spider, it hunts under water as well as on the water's surface. They are not aggressive toward humans. Dock spiders are tan in color with darker brown markings on the cephalothorax and abdomen.
The Brown Recluse
The brown recluse prefers dark, dry, secluded places to live. For these reasons, this species can often be found in homes, living in undisturbed areas of clutter like attics and basements. The species' territory stretches from Mexico's northern border, through a portion of the U.S., and through the Ottawa Valley and southern Quebec. Its venom doesn't often cause death, but can damage human flesh. The recluse has a violin-shaped brown marking on its midsection and six eyes. Most spiders have eight.
The Black Widow
The black widow is known for its black exoskeleton and the bright red hourglass shape on the underside of the female. Two of the five species found in North America live in the Ottawa Valley. Black widows in the wild live under fallen trees and rocks. In and around homes they can be found in unused crawl spaces, outdoor woodpiles and cluttered sheds. The spider's venom is a neurotoxin. It attacks the nervous system of its victims, causing pain and serious illness in humans.
Other Common Varieties
Other varieties of spiders in the Ottawa Valley area include the brown-colored common house spider, the wolf spider and the crab spider. While house spiders, like many other varieties, wait for prey along their sticky webs, the wolf spider forages. The crab spider can be recognized by its bright yellow coloring. It easily hides amongst colorful flowers as it stalks insects like honey bees.