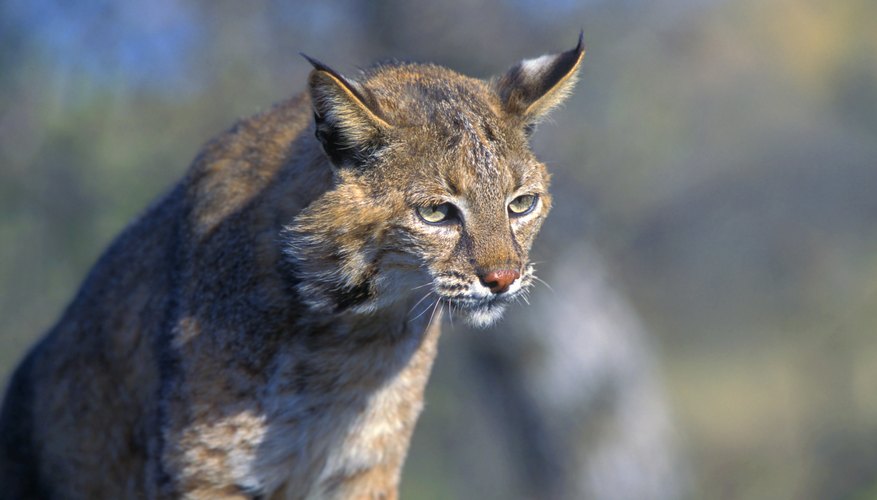 Design Pics/Design Pics/Getty Images
Only one species of wildcat lives in Massachusetts as of 2011. The bobcat (Lynx rufus) lives throughout the state and exerts little impact on human society. Bobcats have short, bobbed tails, pointed ears and long fur extending from their cheeks. Upon reaching maturity, these medium-size wildcats weigh between 11 and 20 pounds and extend 30 to 48 inches from the tip of the nose to the end of the tail.
Distribution
Bobcats live throughout Massachusetts in varying population densities. According to the Massachusetts Division of Wildlife and Fisheries (MassWildlife), bobcats are common in central and western Massachusetts, heavily wooded regions with a number of mountains and other natural enclaves devoid of intrusive human presence. MassWildlife categorizes bobcats as present but not common in northeastern Massachusetts, or the suburban areas north and northwest of Boston, and rare to absent in southeastern Massachusetts, a heavily populated coastal region including the metro sprawl of the greater Boston area and Cape Cod.
Behavior
Bobcats live in forested areas with extensive canopy coverage. Male bobcats exhibit solitary behavior, while females spend large portions of each year rearing their offspring. Generally quiet animals, bobcats sometimes emit growls, high-pitched screams and, during mating season, howls, yowls and meows. Bobcats move regularly depending on the availability of food, the season and the climate. In the forested regions of the Berkshire Mountains and Pioneer Valley of western Massachusetts, bobcats maintain large territories. Bobcats are most active during dawn and dusk, though they also exhibit activity during daylight and nighttime hours.
Feeding
Categorized as aggressive and ferocious hunters, bobcats can attack and kill animals much larger than themselves, such as deer. They generally hunt rabbits, squirrels, mice, birds, skunks, opossums, muskrats, snakes and other small animals, though. Bobcats may stalk and ambush prey, or attack prey they inadvertently come upon in their travels. The wildcats can travel as far as 10 feet in a single pounce. In times of abundant prey, bobcats stash kills by covering them with grass, snow or leaves and return to them later.
Impact
MassWildlife reports that bobcats have little impact on human society in the state. The state manages high populations in areas west of Route 31 through hunting and trapping season, with a cap set at 50 permissible kills per year for the entire state. Hunting bobcats east of Route 31 in Massachusetts is illegal. Bobcats occasionally kill livestock, though this happens so rarely that it does not constitute a genuine problem.