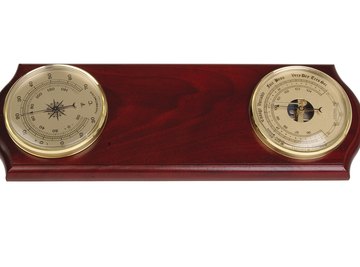 •••
Hemera Technologies/PhotoObjects.net/Getty Images
A barometer is an instrument used to measure air pressure and track weather systems. The most common unit of measurement used in barometers is the millibar (mb).
Fact
A millibar is a form of metric measurement, with one millibar equaling one one-thousandth of a bar or 100 pascals, which is equivalent to one newton per square meter.
Use
Millibars are used to measure atmospheric pressure or altitude. Normal atmospheric pressure measures 1,013.2 millibars.
Features
The two types of barometers are mercury and aneroid. In a mercury barometer, millibars measure how high the mercury column climbs a vertical glass tube. Aneroid barometers don't use liquid of any kind, instead employing a flexible-walled evacuated capsule.
Types
Aside from millibars, other units of measure used in barometers include pounds per square inch, pascals and inches of mercury.
Function
A highly sensitive unit of measurement, one millibar indicates a change of one tenth of one percent in the atmospheric pressure.
References
About the Author
William Lynch has been a freelance writer for the past fifteen years, working for various web sites and publications. He is currently enrolled in a Master of Arts program in writing popular fiction at Seton Hill University. He hopes to one day become a mystery novelist.
Photo Credits
Hemera Technologies/PhotoObjects.net/Getty Images