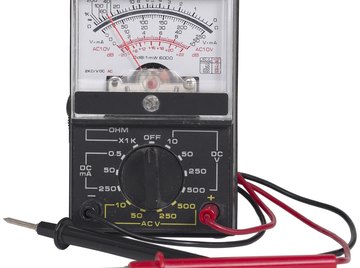 •••
Ablestock.com/AbleStock.com/Getty Images
A portable generator offers you the opportunity to have electricity when your electrical service is interrupted. When the weather worsens, you may find that a portable generator--once a luxury--might become a necessity if you want to continue to use appliances like your refrigerator or your stove. If you ever need your portable generator, you want it to produce the correct voltage. You can test your portable generator's output with a hand-held voltmeter.
Turn on the voltmeter and turn the selector to the "AC Voltage" position. Using the voltmeter to check AC voltage while in any other mode will blow the meter's fuse.

Connect the black (ground) lead to the frame of the generator with the alligator clip on the lead. The meter must be grounded in order to work correctly.

Touch the red lead to the generator's output plug (where you connect the generator to the item you're powering). Read the voltage on the voltmeter's display.

Stand on a rubber mat and wear shoes with a non-conductive sole.
References
"Electricity and Basic Electronics"; S. R. Matt; Goodheart-Wilcox, 1998
Warnings
Stand on a rubber mat and wear shoes with a non-conductive sole.
About the Author
Will Charpentier is a writer who specializes in boating and maritime subjects. A retired ship captain, Charpentier holds a doctorate in applied ocean science and engineering. He is also a certified marine technician and the author of a popular text on writing local history.
Photo Credits
Ablestock.com/AbleStock.com/Getty Images