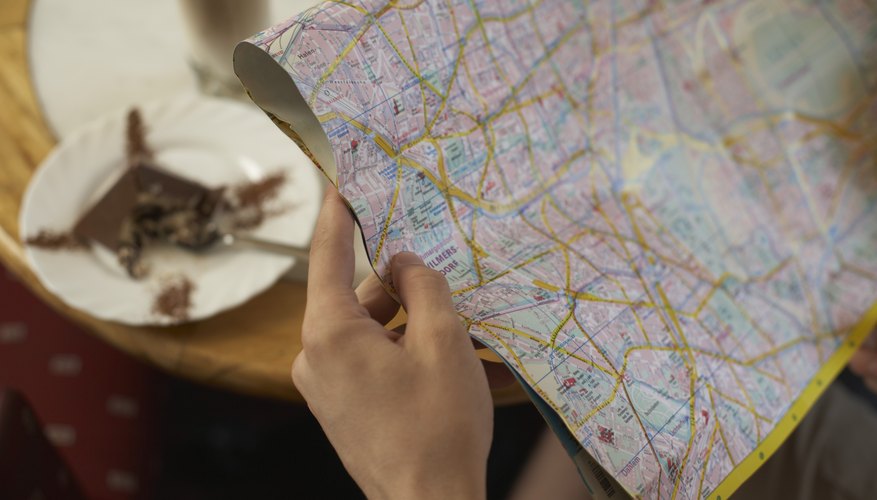 Coordinate planes are a mathematical topic students may dread as they don't understand their practical use. However, coordinate planes, also known as Cartesian systems, have a number of uses in practical life. Statisticians, for example, use them to depict trends. Physicists and economists use coordinate planes to show the connection between two factors, and geographers use them in mapping. Therefore, the most common applications of Cartesian systems in real life is creating simple graphs to depict information or spotting a specific location on the map.
Coordinate Planes on Maps
Unfold a map that does not have a grid. It can be any type of map, from a world atlas to a town map.
Draw vertical lines, beginning from the left end of the map and leaving a 1-inch gap between them. If you don't want to draw on the map, apply a transparent sheet over the map and draw on it.
Design horizontal lines, starting from the bottom end of the map, again leaving a 1-inch gap between them. The bottom horizontal line of the map forms the x-axis, while the leftmost vertical line is the y-axis. Number the lines in ascending order from bottom to top and from left to right. The x- and y- axis are both zero.
Describe a location, using the numbers of the vertical and horizontal lines it falls on. For example, if the town's church falls on third vertical line from left (y-axis excluded) and fifth horizontal line from the bottom (x-axis excluded), them the church's position is (3, 5).
Coordinate Planes for Graphs
Draw a horizontal and an intersecting vertical line. The horizontal line is the x-axis and the vertical line is the y-axis.
Define your items and their values. For instance, items can be different brands of cereals and their values can be their sales during the past three months.
Place the items on the x-axis, leaving equal space between them. Beginning from the bottom of the y-axis, place the values in ascending order ($80,000 goes below $100,000, for instance).
Mark the spots were the imaginary horizontal lines beginning from the values and the imaginary vertical lines of the items meet. From there, you can either raise bars from the x-axis to the spots and create a bar graph or connect the dots and make a line graph.