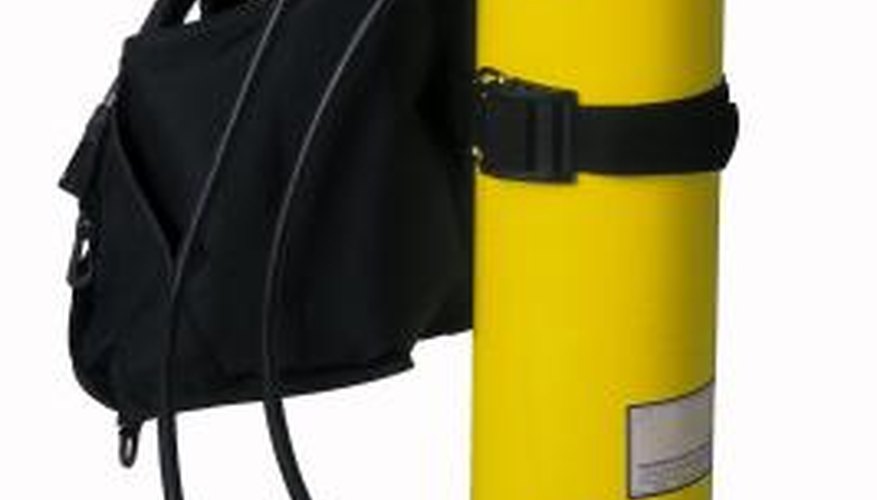 Comstock/Comstock/Getty Images
Although the air we breath is 21 percent oxygen, certain individuals may have additional oxygen requirements. People with various types of lung problems, including emphysema, lung cancer and certain heart conditions may need extra oxygen. There are various types of oxygen delivery systems for home use, including oxygen tanks. It's important to learn to use an oxygen tank correctly and safely to ensure the proper delivery of oxygen to the lungs.
Learn the parts of an oxygen tank. There is a pressure gauge, which indicates how much oxygen is left in the tank. The tank also has a regulator, where you can adjust the flow, which means how much oxygen comes out of the tank.
Crack the regulator on the tank to open the valve, which allows the flow to come out. Many regulators for home use have a dial regulator, which is turned to crack the tank. Check the pressure gauge to determine if there is still oxygen in the tank. The gauge reads full on one end and empty on the other and in between there are numbers that indicate the amount of oxygen in the tank. Talk with your doctor about how to calculate how long the oxygen in the tank will last. There are different calculations based on the size of the tank and flow of oxygen.
Hook the oxygen device you are using to the flow meter. Oxygen devices commonly used include an oxygen mask and nasal cannula. Whichever device you use, it will have oxygen tubing connected to it and one end will fit onto the oxygen flow meter.
Turn the flow on. Your doctor will prescribe a certain liter flow of oxygen. Tanks usually go from 1 liter per minute to fifteen. Several types of flow meters attach to oxygen tanks. One of the most common is a simple dial meter. The dial is turned and the number appears in a small window on the meter.
Keep safety in mind. Oxygen is a gas and the tank is under pressure. Keep the tank in an upright position. Consider using a storage device, which secures the tank and prevents it from falling over. Oxygen is also flammable, therefore you should never smoke around an oxygen tank or expose it to any type of flames.
Tip
Turn off the tank when not in use. This will prevent wasting oxygen.
Oxygen can be drying to the nose and an irritant. Some doctors will suggest that a humidifer be hooked to an oxygen tank to provide moisture in the nose.