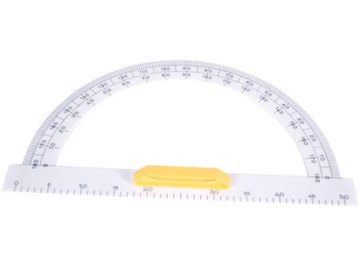 •••
Ablestock.com/AbleStock.com/Getty Images
There are several types of triangles in geometry, each with different side lengths and angles in relation to one another, but all triangles have one characteristic in common: They all have three angles that add to 180 degrees. This characteristic allows you to take unknown measurements from a triangle and subtract them from 180 to determine any remaining angles. You can also measure the angles with a protractor and compare.
Align the horizontal edge of the protractor with the base of the triangle.

Place the center point of the protractor on the vertex of the angle.

Follow the side of the triangle until it reaches the angle measurement mark. Note the measurement.

Repeat for any other angles you want to find.
Ablestock.com/AbleStock.com/Getty Images