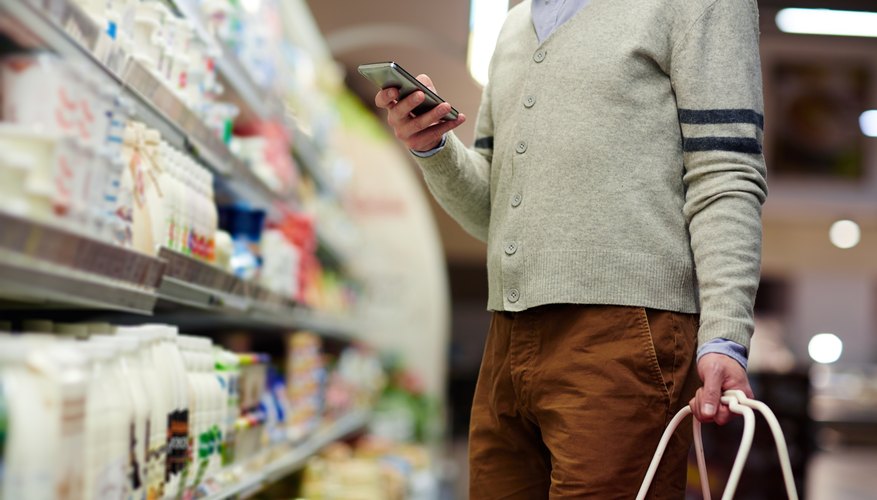 Ratios are some of the most important mathematical relationships used in the real world. Grocery shopping, cooking and getting from place to place are three of the most common real-life situations in which ratios are not only prevalent but essential to correct, cost-effective performance. Relationships such as the "golden ratio" are also extremely important in biology.
Grocery Shopping
When going shopping, children often look at the prices of various groceries. A parent can easily explain ratios to her child using two different boxes of cereal. For example, if a 10-ounce box of cereal costs $3 and a 20-ounce box of cereal costs $5, the 20 ounce box is the better value because each ounce of cereal is cheaper. This relationship is produced by dividing the number of ounces of cereal by the price. For the smaller box of cereal, each ounce costs 30 cents; for the larger box of cereal, each ounce of cereal costs 25 cents.
Cooking
Ratios of various ingredients in recipes are essential to cooking the most delicious meals. An example of this is Daisy Martinez's arroz con pollo recipe posted on the Food Network website. To create an achiote oil, Martinez suggests that 1 cup of olive oil to 2 tablespoons of achiote, or orange seeds, is required to achieve the best taste. This can be taught to children as a 1 cup to 2 tablespoons ratio.
Driving to Vacation
Children love to ask "Are we there yet?" when parents take them on vacation. Ratios can be used to teach them how to answer that question for themselves. For example, while taking a road trip from New York City to Philadelphia, approximately 90 miles of driving is required. Assuming that the car is traveling at 60 miles per hour, convert the hour to 60 minutes. Then divide 90 miles by 60 minutes to demonstrate that the family will get to Philadelphia in one and a half hours.
Special Ratios
Two special ratios consistently seen in real life are pi (3.14) and phi (1.618). Pi is the relationship between the circumference of a circle and its diameter. In the real world, pi can be used to calculate the circumference of a circular swimming pool, provided you know the diameter or radius. Phi, which is also called the golden ratio, was originally determined by Euclid to calculate line segments and relationships between shapes; it is often seen in biological relationships. For example, the length of a person's forearm divided by the length of the same person's hand results in a number close to 1.618, or phi.