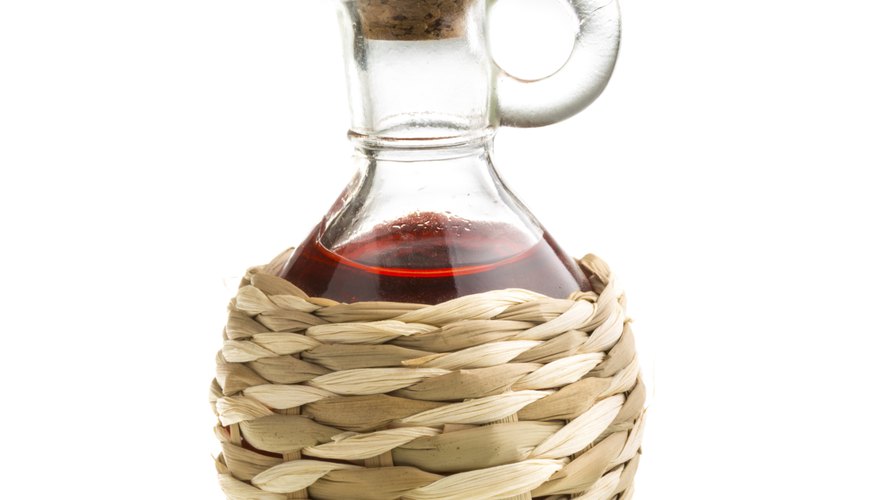 AndreySt/iStock/Getty Images
Ethanoic acid, also known as "acetic acid," is a versatile chemical used to produce a wide variety of compounds. Diluted with water, ethanoic acid is the familiar, pungent liquid vinegar, a popular condiment and cooking ingredient. It is also used as a disinfectant, solvent and medical treatment. The chemical formula of ethanoic acid is C2H4O2.
Chemical Compounds
The biggest use of ethanoic acid is to produce compounds important to a variety of industries. The single largest application for ethanoic acid is the synthesis of vinyl acetate monomer, a component in adhesives and paints. Esters of ethanoic acid act as solvents for coatings, paints, varnish removers and inks. Cellulose acetate, a textile and a component of photographic film, is produced from the anhydride of ethanoic acid. Acetic anhydride is also used in the production of heroin.
Uses of Vinegar
Vinegar is a 4 to 18 percent aqueous solution of ethanoic acid. Table vinegar is usually diluted to a strength of no greater than 8 percent ethanoic acid. Wonderful when mixed with olive oil and poured on salads, vinegar is also important for pickling vegetables and as a culinary ingredient. Sipping vinegars are enjoyed as a pungent drink. Vinegar is useful as a household cleaner and is especially effective for cleaning glass and mirrors.
Medical Uses
Ethanoic acid and vinegar have several medical uses, including the treatment of stings from jellyfish. If applied immediately after a sting from box jellyfish, it can prevent serious injury or worse. It can be applied as treatment for infections of the external ear canal (swimmer's ear). Farmers sometimes spray acetic acid on livestock silage to fight fungal and bacterial growth. Vinegar has been shown to reduce high concentrations of blood sugar.
Other Uses
Ethanoic acid is used as a stop bath for photographic emulsion development, as a agent to remove lime scaling from metallic objects and as an agent to lyse red blood cells before white blood cells are examined. It is effective at removing chalk from indoor climbing holds. In the lab, chemists use ethanoic acid to measure the concentration of weak alkaline substances. It is used as a solvent in the production of camphor, a scent and cooking ingredient.