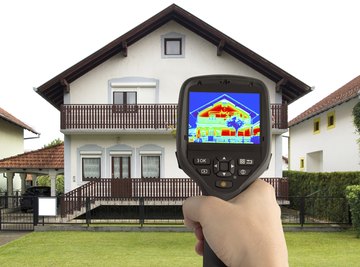 •••
Suljo/iStock/Getty Images
Infrared light is a scientific breakthrough that has led to advancements in many fields and applications. Infrared is a type of light whose waves are invisible to human eyes, although electronic devices can detect and glean meaningful information from them. Read on for some common uses of infrared technology.
Night Vision
Infrared can be used to amplify light in a low-light situation to enable video recording and image capturing.
Thermography
Thermography uses infrared technology to determine the relative temperature of objects by detecting the amount of radiation they are producing.
Tracking Technology
Infrared can be used in tracking technology; objects, commonly missiles, can be sent to follow a target based on their infrared radiation.
Meteorology
Weather satellites use infrared technology to determine water temperature and cloud formations.
Art History
Infrared lights can be used to look under layers of painting to determine if there are older layers underneath.
Heating
Infrared can also be used to create and conduct heat. Infrared saunas have become popular in the physical therapy field.
References
About the Author
This article was written by the CareerTrend team, copy edited and fact checked through a multi-point auditing system, in efforts to ensure our readers only receive the best information. To submit your questions or ideas, or to simply learn more about CareerTrend, contact us [here](http://careertrend.com/about-us).
Photo Credits
Suljo/iStock/Getty Images