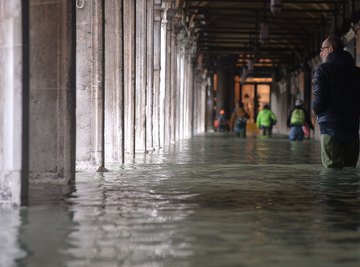 •••
FILIPPO MONTEFORTE/AFP/GettyImages
The highest tide Venice has seen in 50 years overtook the city this month, drowning the historic city in floods and rainwater just moments after the regional council voted down a series of reforms designed to mitigate the climate crisis.
Photos and videos from Venice during the "acqua alta," or high tide, looked like scenes from a disaster movie – with the city's famous Piazza San Marco, typically filled with tourists and pigeons, under knee-deep water and floating chairs from nearby sidewalk cafes. In other areas, high winds and rushing waters made it impossible for people to get through their apartment doors, usually right on the water's edge. High-end designer stores had to paper their windows to hide the damage done, and makeshift bridges sprung up to help tourists who went on with their trips despite the weather.
At least one dude braved the floodwater for a swim. But the more common reaction was terror and distress at the worst flooding the city has seen in half a century, and the related deaths of at least 11 people. The city's mayor took to Twitter to share photos of himself walking through flooded areas and say that Venice was "on its knees."
No Time for Gondola Jokes
Flooding has always been a concern for Venice. Known as a "floating city," and for its sinking – some experts fear Venice will eventually be entirely underwater, a worry that's only increasing as sea water levels continue to rise.
It's not like Venice hasn't done anything to try to prevent future calamities. The city invested $6.5 billion in a massive flood barrier called the Mose. It has its detractors – many of whom said the cost was too high or that it could pose a pollution threat – but its champions were sure it would do wonders to prevent floods, like the one the city's seeing now. But a host of problems, including corruption, construction delays and others not uncommon for a massive engineering project, have delayed the project, leading to headlines like "Venice Still Waiting for Moses to Hold Back the Seas."
But officials have also rejected other measures that could help improve the city's situation. Just moments before the council's chambers flooded, the area's regional council voted no to measures on renewable energy, cleaner vehicles and a limit on plastics.
Though none of the contested measures regarded flooding specifically, environmental experts couldn't help but notice the irony in a group of officials striking down measures to protect the Earth and its climate, even as the crisis literally came through their roof.
And in a country known for its gorgeous coastal cities, Venice isn't alone as another disaster waiting to happen. Extreme rains have hit areas like Rome and Tuscany, causing smaller floods, a rare tornado and cutting off electricity to nearly 10,000 people.
Heading to Venice for a trip? Heavy tourism doesn't help its crumbling and flooding ecosystem, so be sure to check out these ways to be a responsible and sustainable tourist if you go.
About the Author
Rachelle Dragani is a freelance writer based in Brooklyn with extensive experience covering the latest innovation and development in the world of science. Her pieces on topics including DNA sequencing, tissue engineering and stem cell advances have been featured in publications including BioTechniques: the International Journal of Life Science Methods, Popular Mechanics, Futurism and Gizmodo.