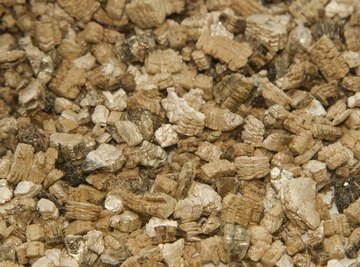 •••
praisaeng/iStock/Getty Images
In its raw form, it is a layered brownish mica-like mineral that greatly expands when it is heated. The expansion occurs when water that resides between the layers of the substance is converted to steam. You can think of it as a mineral form of popcorn with a remarkable number of uses.
Source
Vermiculite is found in various parts of the world, including Australia, Brazil, Bulgaria, Kenya, Russia, South Africa, Uganda, the United States and Zimbabwe. Vermiculite is mined by "open cast" techniques that separate the ore from the waste. It is then screened into several particle sizes. Mining is typically done in a way that reduces the environmental impact.
Uses
Because of its inert chemical nature, compressibility, low density and heat resistance, vermiculite is used in a variety of ways. It is used in friction materials like car brake linings, as a soil amendment that improves aeration while retaining moisture, in packaging material (for protecting expensive china, for instance), heat- and fire-resistant coatings and in construction for things like the core of fire doors and insulation.
References
About the Author
Alexander White has been writing about science since 2005, specializing in earth science. His work has been published in the scholarly journal "Geology." White holds a B.S. in geology and an M.S. in geophysics.
Photo Credits
praisaeng/iStock/Getty Images