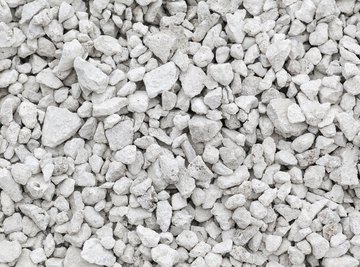 •••
liubomirt/iStock/Getty Images
When limestone is introduced to vinegar, a chemical reaction occurs. Bubbles will begin rising off the limestone and a little heat will be produced. The vinegar and limestone yield several different compounds after the reaction occurs. There are several reasons why these events happen.
Reaction
Vinegar is diluted acetic acid, and limestone is calcium carbonate. Acetic acid is as it's named, an acid. Calcium carbonate is a base, and is commonly used as an antacid for indigestion. Heat is always produced between an acid and a base. Acids and bases create salts and water when mixed together.
Products
The fizzing bubbles are carbon dioxide rising to the surface. These rising bubbles are the same as bubbles in soda pop and are called "effervescence." The vinegar becomes water, and a calcium salt named calcium acetate is created. Calcium acetate is commonly used as a food additive and buffer.
Bonds
Bonds are what hold together chemical compounds. When these bonds are destroyed, a reaction occurs. When bonds are broken, energy is released which creates heat. Vinegar reacting with limestone breaks the bonds of calcium carbonate and acetic acid. New bonds are created out of the broken compounds, which are the products of the reaction.
Chemical Equation
CaCO3 + 2CH3COOH = Ca(CH3COO)2 + H2O + CO2. Limestone (CaCO3) combined with vinegar (2CH3COOH ) yields calcium acetate Ca(CH3COO)2, water (H20) and carbon dioxide (CO2). This equation shows how each compound is broken and bonded, and the products of the reaction.
References
About the Author
Located in Wisconsin, Sean Hemmer has been writing professionally since 2010. Hemmer has contributed several articles to Gamewinners.com and has written for a blog titled "The Tequila Sunrise." He started attending Blackhawk Technical College during the year of 2008 in pursuit of an Associate of Applied Science in information technology/network administration.
Photo Credits
liubomirt/iStock/Getty Images