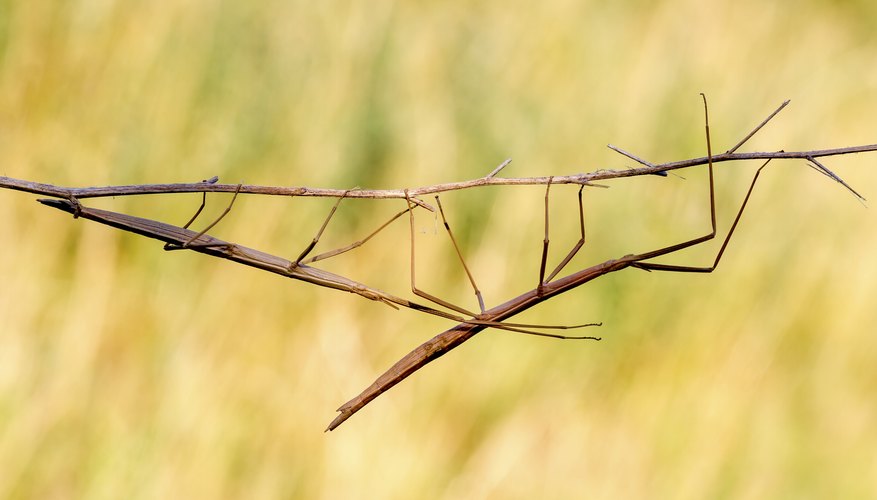 Walking stick bugs (from the Phasmida family) are very aptly named, because they look like sticks with legs and antennae, but even those will look as if they are twigs attached to a small branch. According to National Geographic, there are more than 3,000 species of walking stick bugs all over the word. Depending on what the trees are like in their native habitat, they will look like a twig or branch from that tree.
Size
Walking sticks vary considerably in size according to their species. They average only a couple of inches in length, but the largest species, Phoebaetictus Kirby, can reach an impressive 21 inches in length. That species lives in Borneo. In contrast, North America is home to the smallest species of walking stick, the Timema cristinea, which barely grows to a half inch or 11.6 millimeters long.
Diet
All walking sticks are herbivores. One of the reasons that they look like sticks is so they can graze on the leaves of their preferred trees in peace. Because they are able to break down hard-to-digest leaves, both their bodies and their droppings are important food sources for other animals. According to the San Diego Zoo, other insects prefer eating the droppings, while birds, bats, reptiles, spiders and small mammals enjoy a walking stick adult as a meal.
Self-Protection
Walking sticks' body structure and coloration resemble real twigs or branches so strongly that often birds or other predators do not notice them at all. If this camouflage fails for whatever reason, some species of walking sticks have other means to protect themselves. Eurycantha horrida expels a very foul-smelling fluid. National Geographic reports that some species play dead, while others have grown small spines on their legs that inflict a painful blow. Some species are also able to fly.
Reproduction
Walking sticks are egg-laying insects. A female averages a few hundred eggs in her lifetime (which is up to three years in captivity). Although some species still use male-female mating to create fertilized eggs, many species are parthenogenetic with female-only populations-- they reproduce without the involvement of males. Some species use both sexual and parthenogenetic means to make fertile eggs.
Warning
Although there are walking sticks available in the pet trade, there may be local laws in your area that make owning a walking stick as a pet illegal. Also, National Geographic notes that it is unknown if harvesting walking sticks from the wild is causing an adverse effect on wild populations. John Locke of the University of Alberta warns that walking stick pets that escape into the wild can cause havoc in local environments.