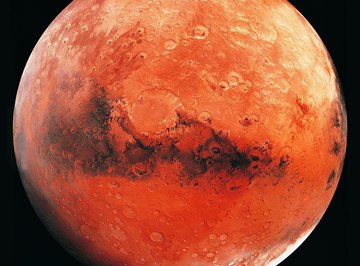 •••
Digital Vision./Photodisc/Getty Images
Earth is nearly 150 million kilometers (93 million miles) from the sun, but Mars is almost 80 million kilometers (50 million miles) farther. To find out more, NASA launched the Mars Science Laboratory in November 2011. By the following August, its Curiosity rover had landed on the planet's surface. Temperature readings were among the data collected. In the area Curiosity investigated, ground temperatures varied dramatically from day to night, with a high of just under 3 degrees Celsius (37 degrees Fahrenheit) to a low of minus 91 degrees Celsius (minus 131.8 degrees Fahrenheit).
Hot Spot
Three and a half billion years ago, the climate on Mars was probably warm and wet like Earth's. Over time, carbonate rock formation used up much of the carbon dioxide in the atmosphere that held heat in. Mars' atmosphere is far thinner now, so the temperatures are significantly lower. In general, the hottest section of Mars, its equator, does not get warmer than about 21 degrees Celsius (70 degrees Fahrenheit) at noon during the summer.
References
About the Author
Living in upstate New York, Susan Sherwood is a researcher who has been writing within educational settings for more than 10 years. She has co-authored papers for Horizons Research, Inc. and the Capital Region Science Education Partnership. Sherwood has a Ph.D. in curriculum and instruction from the University at Albany.
Photo Credits
Digital Vision./Photodisc/Getty Images