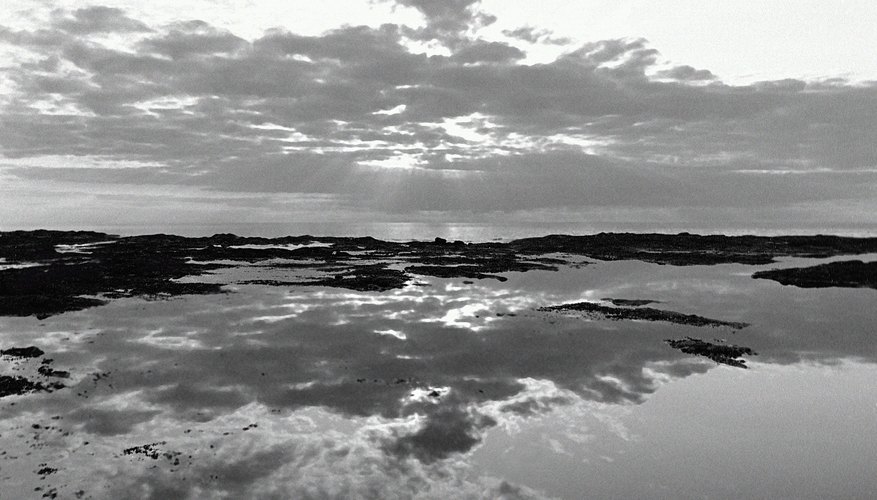 Photos.com/AbleStock.com/Getty Images
The hydrologic, or water, cycle is one of the essential cycles for maintaining life on Earth. The stages of the hydrologic cycle describe the processes by which water moves from the surface of the planet into the atmosphere and back again, ensuring that water supplies are renewed. The regular movement of water on Earth is affected by many factors, which can lead to patterns of flooding and drought.
Earth's Water Resources
Although much of the Earth's surface is water-covered, most of this water is not available for human use. Ninety-seven percent of the Earth's water is held in the oceans, with only 2 percent available as fresh water resources. Those resources can be compromised by human activity and natural events which affect the movement of water in the hydrologic cycle.
Surface to Atmosphere and Back Again
The hydrologic cycle begins as water on the Earth's surface evaporates from a liquid state to a gaseous one under high heat. This evaporated moisture rises into the atmosphere, where it condenses on small particles, forming clouds and fog. When a saturation point is reached, these water particles fall from the atmosphere, returning to the ground as precipitation -- rain, sleet or snow.
Interception and Surface Movement
Water that returns to the Earth's surface as precipitation can fall on water or land. It can be absorbed by plants, remain on the surface, or infiltrate the soil, where it percolates through the layers at rates dependent on the soil's permeability. Plants release water from their leaves as vapor, which returns to the atmosphere. Surface water which is not absorbed by the soil is moved by runoff to streams and other water bodies, and water deep in the soil can remain as groundwater or move through the soil as subsurface runoff to join streams and rivers. As evaporation brings water back into the atmosphere, the hydrologic cycle begins once more.
Factors Affecting The Cycle
The renewal of Earth's fresh water supply depends on the regular movement of water from the surface into the atmosphere and back again. When one part of the cycle is affected, others become affected as well, resulting in too much water in some places and not enough in others. For example, human activity which extracts groundwater, or a severe drought, can affect the amount of water available in a given area, while excessive saturation of the soil can result in flooding.