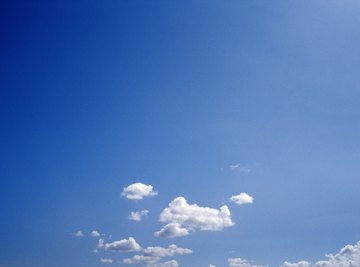 •••
Ryan McVay/Photodisc/Getty Images
You've probably often heard television weather reporters talk about high and low pressure systems, and there's a good reason why the pressure is such an important part of the weather forecast. High and low pressure zones indicate distinctly different types of weather on the way. Low pressure is associated with rain and storms, while high air pressure system tends to mean clear, fair weather.
The Basics of Air Pressure
Cold air is denser and heavier than warm air, so it tends to sink while warm air tends to rise. In areas where winds converge at high altitude, cold air sinks and creates a temporary buildup of air near the Earth's surface and thus a zone of high pressure. Atmospheric pressure decreases with increasing altitude, so high pressure is actually a relative term; generally, weather forecasters use this to mean high relative to normal atmospheric pressure at that altitude.
Clouds in a High Pressure System?
As moisture-laden warm air rises, it begins to cool. Eventually, it reaches the point where the temperature of the air is low enough to become saturated with moisture. As long as there is dust available for the water to collect on, that moisture starts to condense to form clouds. Cool air sinking toward the ground, by contrast, is growing warmer as it becomes compressed, so cloud formation is inhibited. That's why high pressure weather systems tend to free of clouds. Without clouds, there is no rain and hence the weather tends to be clear and fair.
Wind From High Air Pressure
Air flows from regions of high pressure to regions of low pressure, so near the ground the air in a high-pressure system is flowing outward. It doesn't flow straight outward, however; thanks to Earth's rotation, the air tends to move in a spiral pattern. In the Northern Hemisphere, high-pressure system air currents go clockwise, while in the Southern Hemisphere they go counterclockwise. This pattern ensures that winds to the east of a high-pressure system in the Northern Hemisphere will bring cold air from the north while those to the west bring warm air from the south. In the Southern Hemisphere, this pattern is reversed.
Other Effects of High Pressure
High-pressure systems are often relatively dry or low in humidity; since the air grows warmer as it sinks and becomes compressed, the amount of moisture it can hold increases, causing more evaporation of water at the surface and hence low humidity. A classic example in the United States is the Santa Ana weather that Southern California often experiences in fall and early winter. This inland high-pressure system gives rise to very dry weather with strong winds blowing in a clockwise direction around the high-pressure system. The low humidity and strong winds lead to high wildfire risk during these periods.
References
About the Author
Based in San Diego, John Brennan has been writing about science and the environment since 2006. His articles have appeared in "Plenty," "San Diego Reader," "Santa Barbara Independent" and "East Bay Monthly." Brennan holds a Bachelor of Science in biology from the University of California, San Diego.
Photo Credits
Ryan McVay/Photodisc/Getty Images