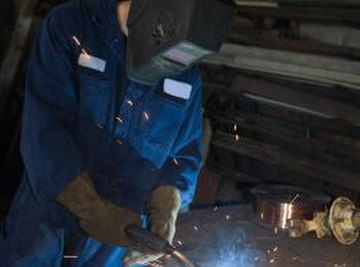 •••
Jupiterimages/Photos.com/Getty Images
Welding pipes is one of the simplest and most durable ways to join piping together and steel pipes can simply be welded together with MIG (metal inert gas), TIG (tungsten inert gas or SMAW (stick metal arc) welding. Before welding two pipes together, avoid any gaps between the two pipes. While welding, take measures to ensure the continual alignment of the two pipes.
Align the two pipes and use clamps to hold them together, if necessary.

Fire your welding torch or strike your welding electrode on the steel to open an arc between the welding tool and pipes. Allow the torch to form a small welding puddle on the surface of the steel, called a tack weld.

Move the arc slightly and create another welding puddle elsewhere on the circumference of the pipes. Continue to move the arc and create more welding puddles until you have formed a series of tack welds at regular intervals along the circumference.

Move the welding tool thoroughly along the circumference of the pipes creating a welding puddle that extends fully around the circumference and connects the two pipes together.

Extinguish the arc and allow the welding puddle several minutes to dry.
References
About the Author
Tricia Lobo has been writing since 2006. Her biomedical engineering research, "Biocompatible and pH sensitive PLGA encapsulated MnO nanocrystals for molecular and cellular MRI," was accepted in 2010 for publication in the journal "Nanoletters." Lobo earned her Bachelor of Science in biomedical engineering, with distinction, from Yale in 2010.
Photo Credits
Jupiterimages/Photos.com/Getty Images