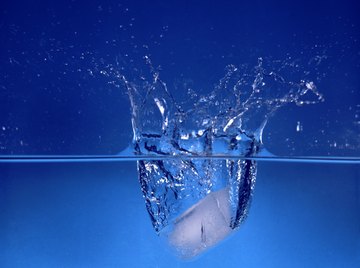 •••
John Foxx/Stockbyte/Getty Images
The acidity or alkalinity of a substance is measured using a quantity known as pH. Technically, the pH of a substance is a measure of hydrogen ion concentration within a solution. Despite the microscopic definition of pH, it can be measured using macroscopic items such as pH paper.
pH Scale
The pH scale varies from 0 to 15 with low numbers representing acidity and high numbers representing alkalinity. When pH paper is dipped into a solution it turns a certain color depending upon the acidity or alkalinity. Water has a neutral pH of around 7 and turns pH paper green. Acidic solutions turn pH paper red and alkaline solutions lead to a purple color.
References
About the Author
Samuel Markings has been writing for scientific publications for more than 10 years, and has published articles in journals such as "Nature." He is an expert in solid-state physics, and during the day is a researcher at a Russell Group U.K. university.
Photo Credits
John Foxx/Stockbyte/Getty Images