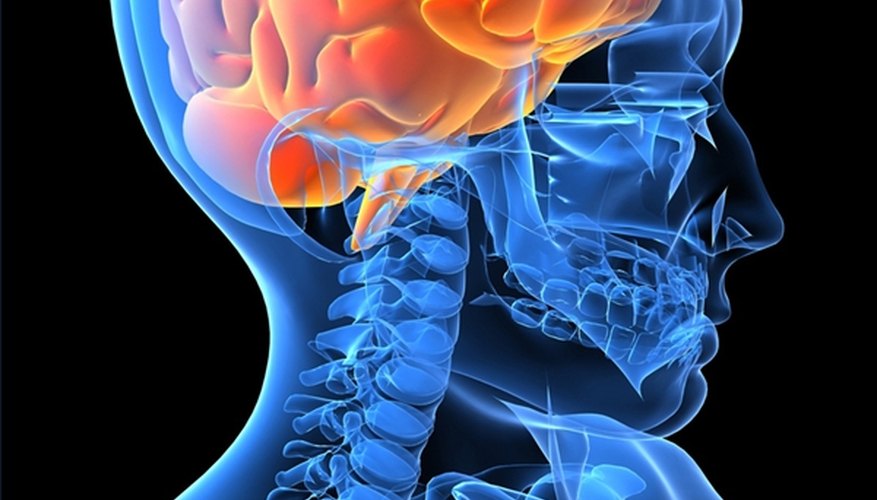 Microsoft Office Online
The temporal lobe is one of the four sections, or lobes, that make up the cerebral cortex of the brain. Located on the lower regions of both the left and right sides of the cortex, the temporal lobe is essential in processing sensory stimuli received from both the eyes and ears. It assists in coordinating speech and spatial navigation and contains the brain structures responsible for long-term memory.
Auditory Processing
The temporal lobe contains a section of the brain known as the primary auditory cortex. This region of the cortex is responsible for receiving and interpreting the information transmitted to it by auditory receptors. Certain portions of the auditory cortex respond to different sound frequencies and pitches; in addition, this part of the temporal lobe assists the brain in determining the location of a sound. While parts of other lobes in the brain play a role in auditory processing, the temporal lobe is the most important.
Speech
The temporal lobe located on the left side of the cerebral cortex is essential for speech. This left temporal lobe contains Wernicke's area, a portion of the brain that is largely responsible for controlling the mental processing needed for speech, including comprehension and verbal memory.
Visual processing
The lowest portions of the temporal lobe are responsible for processing and interpreting information from the visual system, especially the most advanced types of visual memory. This portion of the temporal lobe contains the neural networks required for an individual to perceive and remember objects, faces and detailed settings and scenery.
Memory
The hippocampus is located in the temporal lobe; this structure is one of the most crucial parts of the cortex involved in long-term memory retention. The hippocampus is found not on the outer region of the cerebrum but within the actual lobe, and it allows an individual to retain new memories while storing older ones. These memories can be anything from facts learned by rote or memories of events that occurred in the past.
Spatial navigation
Portions of the temporal lobe, particularly the hippocampus, also play a large role in the ability of an individual to navigate spatially and to physically "remember" a place that the person has been before. People with a damaged hippocampus often get lost because their brains are unable to process, spatially, where they have been and where they are going.