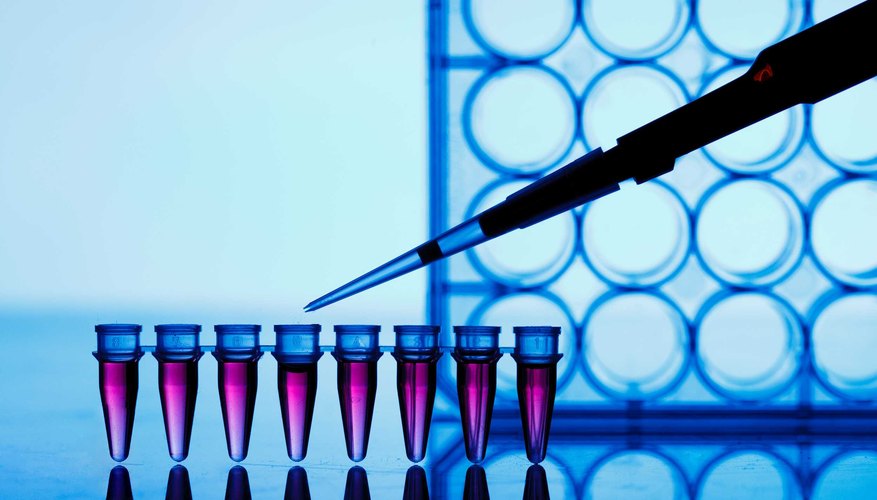 Deoxyribonucleic acid---commonly known as DNA---is the genetic blueprint included in the cells of all living creatures. Generally located in the cell's nucleus, DNA contains the information that allows the smooth development and functioning of every part of the organism. DNA's unique structure allows genetic information to be replicated and passed on accurately to offspring.
History
In 1869, the Swiss doctor Friedrich Miescher discovered the presence of DNA, which he called "nuclein." Later, researchers determined that DNA consisted of linked nucleotide units that were arranged in a regular structure. In 1953, Francis Crick and James Watson accurately determined the structure of DNA---a double helix with paired nitrogenous bases in the middle of the helix.
Identification
DNA is made up of two long chains coiled in the shape of a double helix. Each of these polymer chains contains nucleotides made up of three components: 1. A five-carbon sugar (known as deoxyribose) 2. A phosphate group 3. A nitrogenous base Only four nitrogenous bases are present in DNA: thymine, cytosine, adenine and guanine. The sugars and phosphates of the nucleotides bond strongly together to form a "backbone" to which these four bases connect, forming the "rungs" of the double helix.
Types
Thymine, cytosine, adenine and guanine (often referred to as T, C, A and G) are the foundational units of the genetic code in all living organisms. It is in these bases and the patterns in which they are arranged along the DNA backbone that all the information for an organism to function is contained. The bases can be broken into two groups: pyrimidines and purines. Thymine and cytosine are pyrimidines and form ringed molecules with six corners. Adenine and guanine are purines and consist of a combined five-cornered ring bonded to a six-cornered ring. Because of their differences in size, the purines, A and G, can bond only with one another. Likewise, the pyrimidines, T and C, can also only bond to each other. All along the length of the double helix structure, A is paired with T and C is bonded to G.
Significance
The simplicity of the nitrogenous base pairings---A only with T; C only with G---makes the replication of the DNA molecule relatively simple. The enzyme helicase triggers the unwinding of the double helix structure. Another enzyme, DNA polymerase, matches up each newly unbonded base with its complementary pair. When replication is complete, there are two identical copies of the original DNA molecule.
Considerations
Although DNA is a highly stable molecule, exposure to certain chemicals, extreme heat, UV light or radiation can often cause alterations in the DNA code. The enzyme DNA polymerase can repair damaged areas of DNA and, most of the time, alterations are successfully repaired or turn out to be harmless. However, certain instances in which nitrogenous bases are either inserted or deleted can be very detrimental.