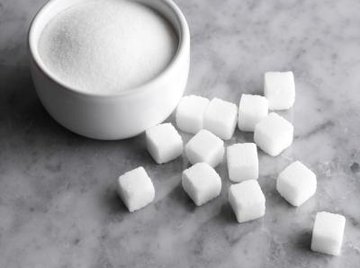 •••
Polka Dot Images/Polka Dot/Getty Images
Glucose—in its basic form—is a sugar molecule. There are different types of sugars, including table sugar, which has the chemical name of sucrose. Glucose is a simpler molecule than sucrose. Both contain carbon, hydrogen and oxygen atoms. Even glucose itself can be in different forms and have different properties, depending on how the atoms are arranged.
Carbon
There are six carbon atoms in a glucose molecule. They can be in the form of a linear chain, or the chain can be connected to itself to make a ring.
Hydrogen
Attached to the carbon atoms are 12 hydrogen atoms.
Oxygen
Also attached to the carbon atoms are six oxygen atoms. The oxygen and hydrogen atoms can be attached to one another as well as to the carbon atoms.
Forms
There are different forms of glucose within the chain and ring types. They differ by the orientation and interconnection of their oxygen and hydrogen atoms. They also differ in how they function and behave in the human body and elsewhere in nature.
Plants
Most or all of the glucose in the human diet is traceable to plants and is manufactured in plants by photosynthesis.
About the Author
Donald Miller has a background in natural history, environmental work and conservation. His writing credits include feature articles in major national print magazines and newspapers, including "American Forests" and a nature column for "Boys' Life Magazine." Miller holds a Bachelor of Science in natural resources conservation.
Photo Credits
Polka Dot Images/Polka Dot/Getty Images