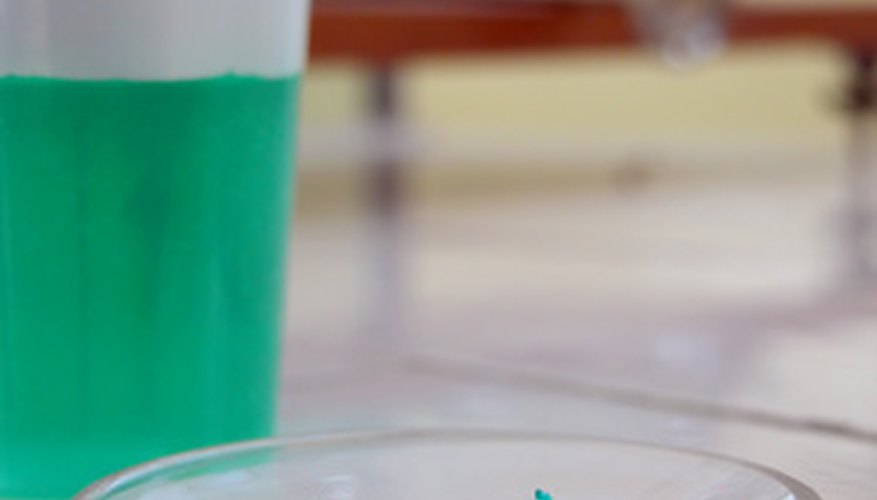 solution and powder image by Radu Razvan from
Fotolia.com
Ethylenediaminetetraacetic acid (EDTA) is a preservative found in many foods. It functions by binding to metal contaminants that cause food to breakdown or decompose. EDTA keeps food from going bad too quickly. It is also used in heart disease treatment, lead and digitalis poisoning and metal removal from soil.
History
According to Dr. Leon Chaitow, EDTA was initially developed in Germany to remove metals from water. It later came to be used as a therapeutic chelating agent in humans, safely removing harmful toxins like excess calcium and lead. It ultimately was utilized by food manufacturers to get rid of metals that can occur in food due to processing, harvesting or the soil the food was grown in.
Important Researchers
The first scientist to help with the eventual development of EDTA was Dr. Alfred Werner. He later won the Nobel Prize for his work with chelating compounds. Dr. Charles Geschickter of Georgetown University was the first to use it for medicinal purposes in the late 1940s.
Sciencing Video Vault
Create the (almost) perfect bracket: Here's How
How it Works
EDTA works by creating tight bonds with metals, sequestering them. Calcium and sodium salts in EDTA often accomplish this task. The amino and carboxyl groups of EDTA form these bonds with metal ions there by preventing them from speeding up the oxidation of fats, leading to decomposition.
Foods and Beverages it is Used In
According to the Center for Science in the Public Interest, EDTA can be found in margarine, salad dressing, mayonnaise, processed fruits and vegetables and many other foods.
Harmful Effects
Bayer removed the compound from Leukine, a medicine used to reduce infections in acute myelogenous leukemia patients, when fainting was reported. Also, it is thought that EDTA removes vitamins and minerals from the body. Therefore in treatments using EDTA, patients are given supplements to counteract this effect, according to the University of Maryland Medical Center.
Alternatives to EDTA
Citric acid is a chelating agent that has been used before EDTA in industry and may be an alternative to it as a preservative.