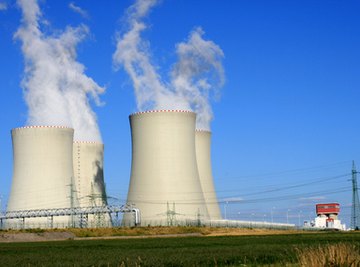 •••
nuclear power station 5 image by Vitezslav Halamka from Fotolia.com
There are many sources of energy. Wind, solar, power, oil, natural gas, coal, petroleum and biofuels all provide electricity and energy for the world. There is much debate over which form of energy is the safest. According to data and statistics alone, the safest form of energy is actually nuclear power. There are many studies that point to the safety and usability of nuclear power.
Types
There are many forms of energy sources. Coal, nuclear, solar, natural gas and wind power can all be harnessed to create electricity and other forms of energy. Solar and wind power are perhaps the safest energy sources, as they harness the natural substances present in the world. Unfortunately, wind and solar power are difficult to harness and do not produce enough power to sustain the modern world. Among sustainable energy sources, nuclear power is actually the safest form of energy, according to a 2005 article published in Environment & Climate News.
Safety
Nuclear power is definitely not viewed as a safe energy source. Many people are afraid of nuclear fallout and the dangers of radiation poisoning. However, what most people do not realize is that most people are already exposed to radiation on a daily basis. According to the Environmental Protection Agency, the average person in the United States is exposed to around 360 millirems of radiation every year. Someone living next to a nuclear power plant is only exposed to one millirem of radiation, according to an Environment & Climate News article. A study published in Switzerland in 2003 by the Paul Scherrer Institute indicated that there are typically eight fatalities from the production of one terawatt of nuclear energy. This compares to 85 fatalities for natural gas and 418 for oil.
Benefits
There are many benefits to nuclear power other than just the safety benefits. Nuclear power is clean, efficient and effective. Nuclear power also does not emit harmful emissions into the environment like coal and oil power. Nuclear power does not require daily ingestion of resources like coal power. Nuclear power is powered by uranium, which is a natural substance that is abundant in the world.
Risks
Even though nuclear power is one of the safest forms of energy production, there are still risks involved. There is still the risk of radiation poisoning for workers and the nearby environment. Some of the waste from the power plants may harm nearby water supplies.
Considerations
The world still has a long way to go before it will embrace nuclear power. The trouble at Three Mile Island back in 1979 scared most United States' citizens away from the increased use of the power supply. However, many strides have been taken since then to increase the safety of nuclear power. In fact, according to Dr. Bernard Cohen, professor at the University of Pittsburgh, activities such as riding a bike for 10 miles or traveling 1,000 miles in an airplane are more likely to cause serious damage than living next to a nuclear power plant.
About the Author
Brenda Priddy has more than 10 years of crafting and design experience, as well as more than six years of professional writing experience. Her work appears in online publications such as Donna Rae at Home, Five Minutes for Going Green and Daily Mayo. Priddy also writes for Archstone Business Solutions and holds an Associate of Arts in English from McLennan Community College.
Photo Credits
nuclear power station 5 image by Vitezslav Halamka from Fotolia.com