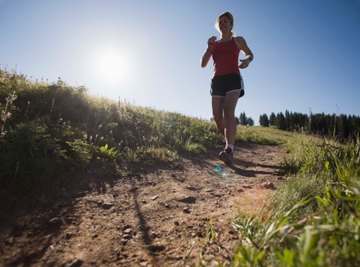 •••
Jupiterimages/Comstock/Getty Images
Photosynthesis is the method by which plants turn light into food, and the sun has a vital role in this process. Without sunlight, plants would not be able to live and there would be no oxygen for people to breathe.
Significance
Without the sun, photosynthesis could not take place. The sun provides the initial energy that starts the cycle of photosynthesis, which converts this sun energy into food for plants.
Method
Along with sunlight, water and carbon dioxide are necessary for photosynthesis. A chemical reaction happens inside the chloroplasts of the plant cells, turning light, water and carbon dioxide into sugar, or carbohydrates, and oxygen.
Fun Fact
Human beings breathe oxygen and exhale carbon dioxide. Plants "breathe" carbon dioxide and "exhale" oxygen, which humans breathe.
Resources
Photo Credits
Jupiterimages/Comstock/Getty Images