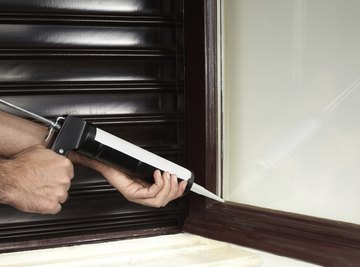 •••
AndreaAstes/iStock/Getty Images
Urethane is a term that refers to at least three different substances: ethyl carbamate, carbamate or polyurethane. While all of these substances are related by chemical compositions of nitrogen, hydrogen and oxygen molecules, they are distinct in their uses.
Ethyl Carbamate
Urethane perhaps most commonly refers to ethyl carbamate, an organic compound typically used in the synthesis of pharmaceuticals or in pesticides as a solubilizer and cosolvent. Ethyl carbamate is usually seen as either white crystals or a white, granular powder that dissolves easily in water. It's chemical formula is C3H7NO2.
Carbamate
Carbamate, also called urethane, is most commonly used as pesticide, with several types of pesticides -- including sevin, aldicarb and carbaryl -- deriving from the compound. Carbamate pesticides are in common use because they break down more readily than other pesticides and are not quite as toxic. Its most basic chemical formula is NH2COOH.
Polyurethane
Polyurethanes are a group of organic plastics that have a wide range of applications. As the name suggests, the primary composition of polyurethanes are multiple urethane (or carbamate) groups. Polyurethanes are commonly used in the production of sealants, mattresses, car seats and shoes.
References
About the Author
An avid lover of science and health, Meg Michelle began writing professionally about science and fitness in 2007. She holds a bachelor's degree in physics from Creighton University and master's degree in science writing from Johns Hopkins. Her work has appeared in publications such as EARTH Magazine.
Photo Credits
AndreaAstes/iStock/Getty Images