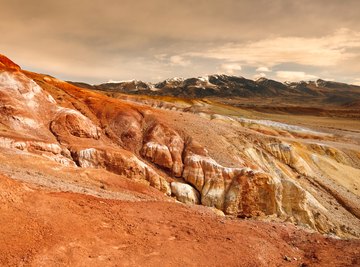 •••
Nikolay_Popov/iStock/GettyImages
Scientists should keep an eye out for rocks on Mars that look a bit like fettuccine, because these could signify extraterrestrial life.
Why? Well, a recent study funded by NASA focuses on microbes in hot springs that create noodle-like rock formations, which end up resembling fettuccine. These microbes already exist here on Earth, including in Yellowstone National Park, but it could open a new window into the possibility of alien existence.
"If we see the deposition of this kind of extensive filamentous rock on other planets, we would know it's a fingerprint of life," lead study author Bruce Fouke told the University of Illinois News Bureau. "It's big and it's unique. No other rocks look like this. It would be definitive evidence of the presence of alien microbes."
Why These Rock Formations Matter
On Earth, the noodle-like rock formations arise in geothermal, mineral-rich water, such as that in Mammoth Hot Springs at Yellowstone. The minerals precipitating out of the water create pasta-shaped formations, composed of calcium carbonate. However, according to Live Science, these shapes don't come out of nowhere – microbes help build them.
Fouke and his team focused on fast-flowing, particularly hot water (149-162 degrees Fahrenheit) with low pH levels (6.2-6.8, making it acidic) in their research. They found that the rock formations in question got their pasta-like shape by adapting to microbes, which spread across the surface of these rocks and cling to each other in long strands. The vast majority of these microbes belong to a species nicknamed "sulfuri," and they exist all over Earth.
And here's the thing sulfuri teaches us: If microbes existed in hot springs on another planet, they would probably closely resemble sulfuri. So if these microbes fossilized, they would probably take on familiar – and very distinct – shapes.
An Extraterrestrial Treasure Hunt
Fouke told Live Science that in Mammoth Hot Springs, sulfuri grow a billion times faster than they do in other environments. This creates "an instant microbial fossil factory," as he called it. Microbes living in similar extraterrestrial environments would most likely behave similarly.
For now, Fouke and his team are focusing on analyzing the proteins and genetics of the microbes in Mammoth Hot Springs. This would theoretically set a point of comparison in case pasta-like rock formations were found on another planet.
"Now, for the first time, when we have a rock that is fettuccine-looking travertine [sulfuri], if that rock is collected and analyzed on Mars, we have the full suite of these extremely cutting-edge analyses for the microbes," Fouke told Live Science.
Our first evidence of extraterrestrial life may illustrate extinct, unintelligent, and tiny life forms, but it'd be groundbreaking nonetheless.
"If we go to another planet with a rover, we would love to see living microbes or we'd love to see little green women and men in spacecraft," Fouke said. "But the reality is we're going to be looking for life that was probably growing in hot springs, life that was fossilized."
References
About the Author
Brenna Swanston is a freelance writer, editor and journalist. She covers topics including environment, education and agriculture. She previously reported for the Sun newspaper in Santa Maria, Calif., and holds a bachelor's in journalism from California Polytechnic State University. Swanston is an avid traveler and loves jazz, yoga and craft beer.