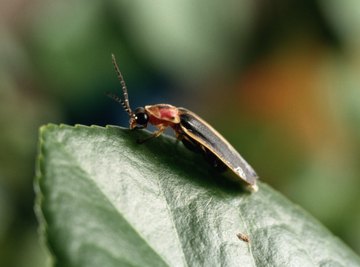 •••
Kim Steele/Photodisc/Getty Images
Male and female lightning bugs, also called fireflies, are nocturnal and communicate at night by flashing light in their abdomens in specific patterns to find a mate. They spend their days resting close to the spot where you see them after dark.
Daytime
During the day, lightning bugs hide in tall grasses and shrubs. Vegetation also provides shade to keep them cool on hot summer days.
After Dark
Lightning bugs spend most of the day on the ground. But at night they crawl to the top of tall grasses and fly to low hanging tree branches to better broadcast their flashing signals.
Habitat
Lightning bugs live close to standing water, near decaying debris and wood. They thrive in warm and humid climates but some species are also found in dry areas.
References
About the Author
I have been a professional historian, museum curator, and author for more than a decade. I have served as the Museums Editor at BellaOnline since 2004. I am qualified to serve as an expert in a variety of historical topics. My expertise includes the Victorian Age and McKinley's presidency, the Roaring Twenties, the 1950s, the flu, museum studies, material culture, architecture, and more. I have a BA in history and an MA in history museum studies from the Cooperstown Graduate Program. Please see my bio on my employer's website for more: http://www.mckinleymuseum.org/speakers_bureau/speaker/2
Photo Credits
Kim Steele/Photodisc/Getty Images