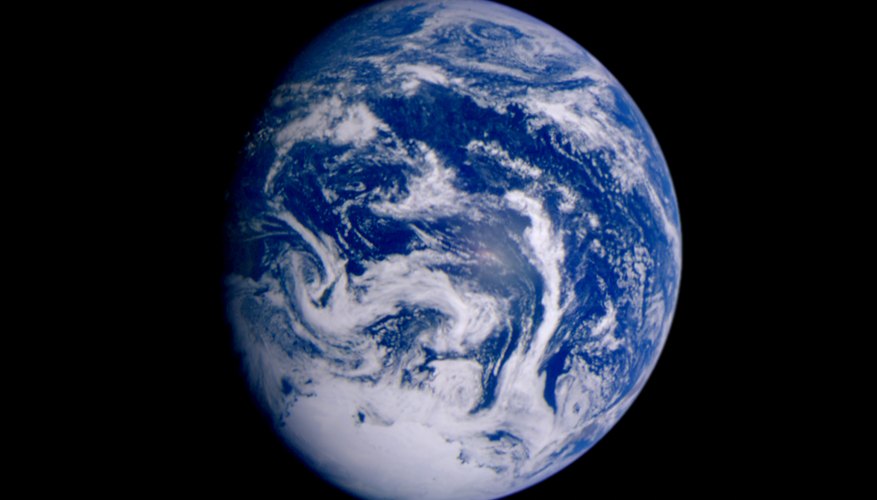 Thinkstock Images/Comstock/Getty Images
Differences in atmospheric pressure, called pressure gradients, do drive wind movement. Wind will always blow along the pressure gradient from areas of high pressure to those of low pressure. The changes in pressure in the atmosphere arise from changes in temperature, which in turn is due to differences in how the sun heats different patches of air.
Solar Heating
The Earth absorbs about 45 percent of the heat energy of the sun's rays. The rest is reflected back out into space. The heat is not distributed evenly over the Earth's surface, however. The Earth's tilt varies with the season, so part of the Earth tilts away from the sun and part tilts toward the sun, so each portion receives a different amount of heat. Whether the surface is water or land also makes a difference -- water is more resistant to temperature change, so it is usually cooler than land, for example. The net effect is that there are many imbalances in temperature across the Earth. This, in turn, affects the atmosphere.
Temperature and Pressure
For a mixture of gases like the atmosphere, different temperatures imply different pressures. The reason is that cold air is more dense, while warm air is less dense. The differences in density cause cold air to sink while warm air rises. Rising warm air reduces the local atmospheric pressure, while sinking cold air increases pressure. These patches of air can be large, such as the difference between warm air in the tropics and cold air at the poles, or small, such as the temperature difference between cooler water over the ocean and warmer air over the nearby shore,
Wind
Air then rushes from the high-pressure zone to the low-pressure zone in an attempt to return to the equilibrium state, which is equal pressure in both areas. If the pressure difference, or gradient, is large, or if the zones are close together, the moving air will move faster, which people feel as stronger wind. Wind will always move from high pressure to low pressure -- never the other way around.
Coriolis Force
In addition to changes of temperature driving changes in pressure, there is another major force that affects wind. The rotation of the Earth affects the atmosphere as well, producing a rotational force that bends wind to the right in the Northern Hemisphere and to the left in the Southern Hemisphere. This force acts more strongly on stronger winds, giving rise to the characteristic spiral shape of great cyclonic storms, such as hurricanes.