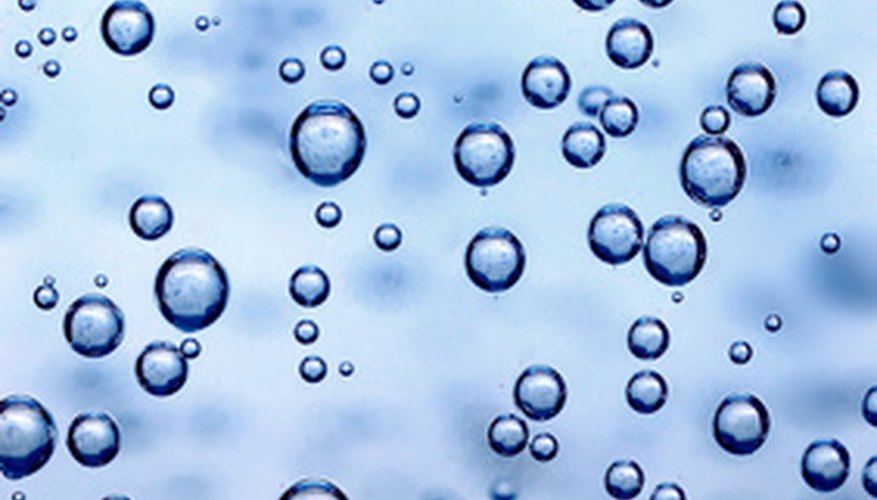 Clean water and water bubbles in blue image by Suto Norbert from
Fotolia.com
The Winkler titration method measures the amount of dissolved oxygen in water samples. The results of the experiments determine the health of a particular body of water and can also predict other oxygen-related activities in the water. The Winkler titration method remains in use and also serves as a basis for adaptations made to methods for testing dissolved oxygen in both fresh and saltwater samples.
History
Lajos Winkler developed the Winkler method as part of his doctoral dissertation for the Budapest University of Science in 1888. Although modern usage of the method frequently applies to work conducted by environmentalists and ecologists, Winkler came up with the process as a way of measuring high-pressure boilers. Determining the amount of oxygen dissolved in a high-pressure boiler helped him evaluate the corrosion resistance of the boilers.
Modern Uses
Environmentalists and ecologists primarily use the Winkler method for three determinations. First, the method provides insight with regard to the health and cleanliness of a body of water. Second, it also gives an indication of how much and what type of biomass it can support. Finally, dissolved oxygen levels serve as an indicator of the amount of decomposition occurring in the water, which evidences a healthy life cycle of nearby plants.
Process
The Winkler method uses a 300-milliliter sample of water. Added to the water are two reagents: 2-milliliter manganese sulfate and 2-milliliter alkali-iodide-azide. These reagents are added individually under the surface of the water and slowly to prevent exposure to oxygen through bubbles. The solution is inverted to mix the reagents together with the water, and then 2 milliliters of concentrated sulfuric acid get added from above the water surface. This completed solution then becomes titrated with drops of sodium thiosulfate until it produces a pale straw color. After completion, scientists add 2 milliliters starch solution, which turns the water solution blue. Individual drops of sodium thiosulfate are titrated into the solution until the solution becomes clear, which marks the end of the method process.
Results
Each milliliter of sodium thiosulfate equates to one milligram per liter of dissolved oxygen. The total milliliters of sodium thiosulfate used to turn the solution pale straw, and then clear, equates to the total amount of dissolved oxygen in the water sample. Since gas becomes more soluble in cold water than warm water, expected results should indicate higher levels of dissolved oxygen in colder water than in hotter water samples.
Alternative Instruments and Adaptations
Since 1888, modern-day tools and instruments that produce instant measurements of dissolved oxygen largely reduce the need for the Winkler titration method. However, many scientists who use these instruments periodically resort to the Winkler titration method to test the accuracy of the results and make sure their instruments are recording data correctly. Additionally, many adaptations of the Winkler method have been developed since the original method was introduced. Some of these adaptations use iodine and citric acid in place of original reagents.