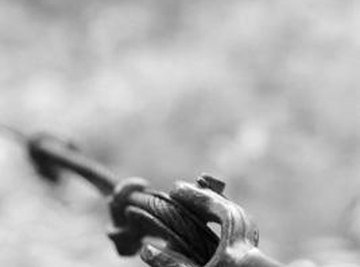 •••
Thinkstock/Comstock/Getty Images
A wire rope reeving system is essentially a rope system in which wire rope travels around drums and sheaves, or pulleys, for the purpose of hoisting or hauling. Wire rope is designed to cope with hostile environments; each individual wire is coated with zinc, or galvanized.
Construction
A typical wire rope reeving system consists of a grooved cable drum, two pulleys mounted on a hoist and three more on a main beam, so the rope can be reeved into a six-part form supported at a hoist. Each hoist is driven by an electric motor and operated by a ratchet and pawl lever system.
Purpose
The purpose of a wire rope reeving system is to provide mechanical advantage so the system can hoist heavy loads by applying relatively little force to the rope. The mechanical advantage equals the number of sections of wire rope actually supporting the load.
Maintenance
Wire rope is lubricated during the manufacturing process, but lubricant will not last the lifetime of the rope. The rope therefore needs to be lubricated periodically with a high grade lubricant, free from acid or alkali, which will cling to and permeate the surface.
References
"Marine Structures Engineering: Specialized Applications;" Gregory P. Tsinker; 1995
"Handbook of Rigging;" Joseph A. MacDonald, W. E. Rossnagel, Lindley R. Higgins; 2008
About the Author
A full-time writer since 2006, David Dunning is a professional freelancer specializing in creative non-fiction. His work has appeared in "Golf Monthly," "Celtic Heritage," "Best of British" and numerous other magazines, as well as in the book "Defining Moments in History." Dunning has a Master of Science in computer science from the University of Kent.
Photo Credits
Thinkstock/Comstock/Getty Images