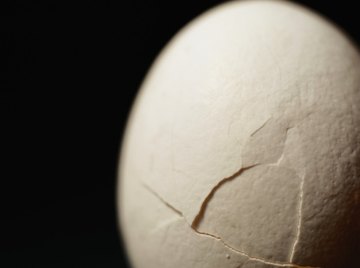 •••
Photodisc/Photodisc/Getty Images
For a classical science experiment such as the egg drop, it is important to develop a proper hypothesis. A hypothesis is an educated explanation made with limited evidence as a starting point for further investigation. Write a hypothesis before beginning the experiment. An egg-drop project requires students to create containers that hold an egg without cracking if the container and egg are dropped from a certain height. The rules regarding the container and the height dropped depend on the rules each teacher sets. A proper hypothesis lists the parameters and predicts what will happen if those limits are met.
Think about how easily an egg breaks if an egg carton is dropped. From what height will it break and from what height will it remain intact?

Ask yourself what padding would ensure the egg is protected from cracking when dropped.

Decide on appropriate test parameters for the egg container, such as what materials to use, how much material to use, and from what height drop the egg.

Write a hypothesis that indicates which container parameters and height you have decided will keep the egg intact when dropped. Write your hypothesis as an if-then statement that will be answered by your experiment.
References
About the Author
Sarah Meem began writing in 2007. She specializes in coverage of Middle East topics, human trafficking and human rights issues. Meem has a Bachelor of Arts in international studies and Arabic from the University of North Carolina. She is pursuing a master's degree in social service administration from the University of Chicago.
Photo Credits
Photodisc/Photodisc/Getty Images