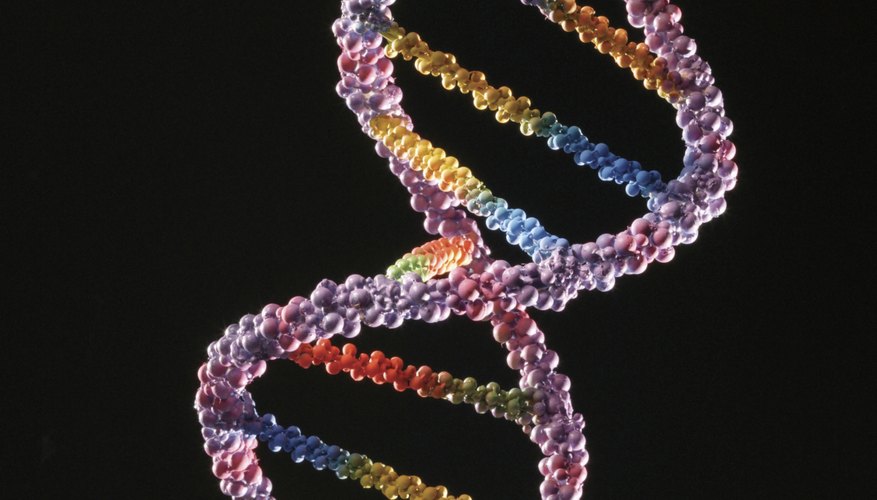 Comstock/Comstock/Getty Images
Base pairs are an integral constituent of DNA. You can use the complementary base pairing rule to determine the sequence of bases in a strand of DNA, if you know the sequence in the corresponding strand. The rule works because each type of base bonds to only one other type.
Structure of DNA
DNA consists of pairs of nucleotides on a sugar and phosphate backbone. There are four nucleotides: adenine, thymine, guanine and cytosine. Each type of nucleotide pairs with only one other type. Hydrogen bonds connect the nucleotide pairs. The nucleotide pairs, along with the sugar and phosphate backbone, form a ladder-like structure that twists to form the well-known double helix structure of DNA. Each side of the ladder is known as a strand of DNA.
Nucleotides and Bases
Nucleotides consist of five carbon atoms, a phosphate group and a base. Each type of nucleotide has a base with a different structure but all bases contain nitrogen.
The four bases can be split into two groups: purine and pyrimidine bases. Purine bases are made of a six-atom ring and a five-atom ring joined by two shared atoms. Pyrimidine bases are smaller and comprise only one six-atom ring. Adenine and guanine are purine bases and thymine and cytosine are pyrimidine bases.
Base Pairing Rule
Purine bases bond to pyrimidine bases. This happens because the shapes of purine and pyrimidine bases allow hydrogen bonds to form between the two.
The base pairing rule states that adenine pairs only with thymine and guanine pairs only with cytosine. Two hydrogen bonds form between an adenine and thymine base pair, whereas three hydrogen bonds form between a guanine and cytosine base pair.
Using the Rule
For example, you may know that one side of the DNA strand has the sequence AGTGGACT, where A represents adenine, G represents guanine, T represents thymine and C represents cytosine.
You can determine the base sequence of the complementary strand using the complementary base pairing rule. In this case, the complementary strand would have the sequence TCACCTGA.