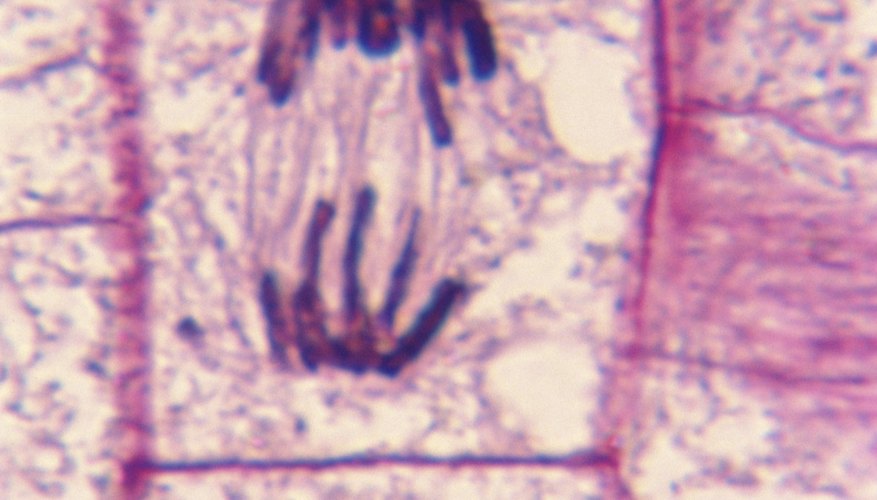 Jupiterimages/Photos.com/Getty Images
Eukaryotes are cells with nuclei and other organelles. Not all eukaryotes require oxygen to survive, but most do. Eukaryotes use oxygen in order to convert food into energy, which is a very efficient form of metabolism. These are aerobes or 'aerobic' (oxygen consuming) eukaryotic organisms. There are also eukaryotic cells that do not require oxygen in the energy production process. This method of producing energy is anaerobic.
Oxygen for Energy Production in Eukaryotes
Cells convert nutrients into energy used for cellular activity. The reactions involved in this process require a cell to break down large nutrient molecules into smaller ones, which produces energy as a product. In order to perform this function the cell requires a molecule that can accept an electron from a donor molecule produced in the breakdown process. As this electron is accepted by the oxygen molecule, energy is released. This is called aerobic cellular respiration.
Energy Production Without Oxygen
Some eukaryotic cells can produce energy in the absence of oxygen. Examples include human skeletal muscle cells and yeasts. Human skeletal muscle can survive without oxygen only very briefly. Many yeasts can survive indefinitely without oxygen.
Anaerobic Respiration Versus Fermentation
Eukaryotic cells, for the most part, use a process called fermentation to enable the production of energy without oxygen. Fermentation is a process that actually recycles energy rather than producing it. This recycling allows metabolism to continue in the presence of nutrient even when oxygen is not available. A small minority of eukaryotic organisms can utilize anaerobic respiration pathways, which, like aerobic respiration, involve an electron transport chain, to generate energy. Unlike aerobic respiration, however, anaerobic respiration does not utilize oxygen as the final electron receptor. A different molecule is used.
Yeasts and oxygen-depleted animal muscle cells are examples of eukaryotic cells that use fermentation to keep metabolism going. There are some eukaryotic algae that are able to convert energy from the sun into cellular energy and they are able to live in environments that have little or no oxygen. These algae use mainly the fermentation process also, however a few use anaerobic respiration.
Facultative Versus Obligate Anaerobes
Some eukaryotic cells can survive with or without the presence of oxygen. These are known as facultative anaerobes. Examples of facultative anaerobes include yeasts and marine invertebrates, including mussels and crustaceans. Facultative anaerobes can switch from using oxygen to produce energy to anaerobic processes depending on oxygen availability. No eukaryotic organisms require the absence of oxygen to thrive. However, some prokaryotic (lacking organelles) bacteria cannot survive in the presence of oxygen. They are called obligate anaerobes.