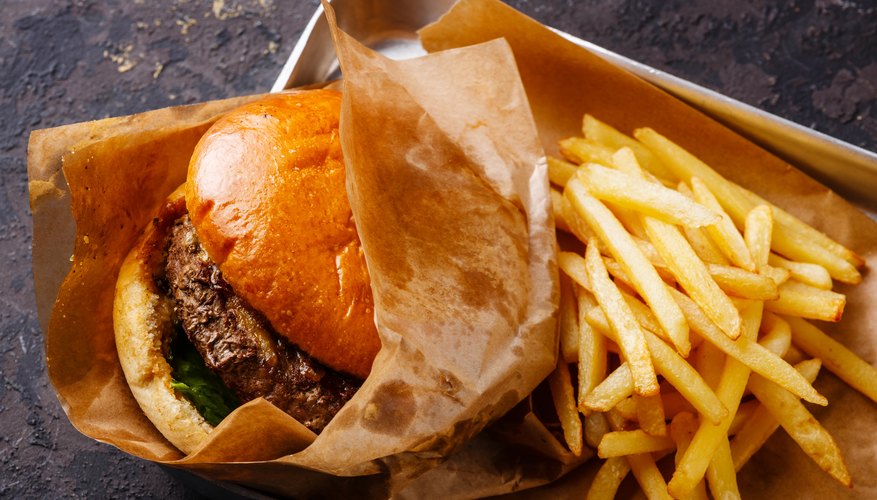 Lisovskaya/iStock/GettyImages
The average American consumes almost 2,000 pounds of food every year, consisting of 85.5 pounds of fat, 110 pounds of red meat, 31.4 pounds of cheese and 415 pounds of vegetables according to Visual Economics. A speech about food should consist heavily of government research and visuals of what people eat. While endless topics exist, these areas provide a good foundation for getting started.
Fast Food
The average American spends 5.6 percent of their annual income on fast food, or about $1,800 per year, according to the Financial Nut website. Topics of how much Americans eat and the economic impact of fast food restaurants can address a number of issues, including cost to the family budget, diabetes and cholesterol problems, wages paid to employees and the jobs these restaurants provide, especially in parts of the country that struggle economically. The philanthropy of the fast food industry and its role in American pop culture are two additional areas to consider.
Cooking
Cooking at home gives families an activity to do together, in addition to creating a healthier meal. Topics about cooking include recipes, family traditions, baking, stocking a kitchen and canning. Speakers can also address how to make classic dishes, where to buy the best ingredients, how to buy in bulk and where to find the best recipes. Speakers could also talk about some of the greatest chefs in history and their contributions to the American diet.
Organic Food
Farmers in the U.S. dedicate almost 5 million acres of farmland to organic farming, a number that continues to grow, according to the U.S. Department of Agriculture. This fact could inspire such topics as what organic farmers grow and the differences from other foods that are not organic. While one speech could address fruits and vegetables, others can address meat, poultry and pork. Consumer issues about the health benefits and cost of organic food would also make for an interesting speech. Speakers can also talk about organic grocery stores, restaurants and recipes exclusively using organic ingredients. Presenting a "before and after" snapshot of switching from a non-organic to an organic diet can both inform and persuade an audience.
Hunger
In 2009, about 50 million Americans lived in "food insecure" households, meaning they did not have enough money to put food on the table, according to Feeding America. Topics related to hunger range from actual data on hunger itself to how much America spends to help those in need. A speaker can look at why this happens to families, how to get help and how to prevent it in the future. Other areas to explore include the number of children affected, school lunch programs and government assistance. Speakers can also address how much people give to America's food pantries, the number of people fed because of nonprofit organizations, and the shame many people feel at having to ask for help.